Description
[smartslider3 slider=115]

SUBJECT: ROTARY CAPPING MACHINE
REF. PROJECT: Spices – 120 BPM
OFFER SUBJECT:
PAR. 1. BOTTLE AND CAP DRAWINGS
PAR. 2. MACHINE MODEL
PAR. 3. TECHNICAL DETAILS
PAR. 4. MACHINE CHANGEPARTS
PAR. 5. AUTOMATIC FEEDING SYSTEM WITH SORTER
PAR. 6. AUTOMATIC FEEDING SYSTEM WITH SCARA ROBOTS
PAR. 7. OPTIONAL ITEMS
PAR. 8. QUOTATION
PAR. 9. GENERAL SALES CONDITION
ROTARY CAPPING MACHINE MOD. INP/F-288-04
MODEL
INP/F-288-04
MAX OUTPUT
120 BPM
TURRET PRIMITIVE DIAMETER
288 mm
CAPPER PITCH
226,2 mm
N. CAPPING HEAD
4
RUNNING DIRECTION
CLOCKWISE
PRODUCT
–
BOTTLE
PLASTIC/GLASS
CLOSURE TYPE
VARIOUS
CONVEYOR WORKING HEIGHT
950 ± 50 mm
PAR. 3. TECHNICAL DETAILS
PAR. 3.1 MACHINE DESCRIPTION
The machine is powered by a gear motor that is driven by an inverter;
The machine's frame is made of carbon steel treated with epoxy paint. It is clad with Stainless steel AISI 304;
Turret height adjustment is accomplished via an electric gear motor which allows the adjustment of the turret according to the different heights of the bottles;
The turret does not have any painted parts. All the mechanical parts are nickel – plated.
PAR. 3.2 CAPPING HEAD
– The machine is equipped with no. 4 Screw Caps capping heads with magnet clutch Mod.
TMP-801. The torque is adjustable by means of a scale displayed on the capping head. The torque range goes from 0 to 6 Nm (53 in/lb). The material used is stainless steel AISI 304
PAR. 3.3 CAPSULES TRANSFER
The transfer of each cap from the caps feed chute to the capping head is made by a PICK & PLACE device which includes a caps transfer starwheel, feeding them one at a time to the capping heads;
Pick & Place in operation complete of a quick release system;
No bottle/no cap device.
PAR. 3.4 BOTTLE FEEDING
Bottles enter the machine trough a 4mt. length conveyor without motorization. (REJVES standard section);
The adjustable (x/y position) infeed screw guarantees a smooth bottle transfer of the bottles into the infeed starwheel;
A safety clutch will stop the machine in case of bottle jamming
PAR. 3.5 STANDARD EQUIPMENT
The basic machine includes a complete set of changeparts for no. 1 cap and no. 1 bottle format.
Anti rotation belt for round bottles
PAR. 3.6 ELECTRICAL SYSTEM
The electric system is made in accordance to the 2006/42/CE standards.
PAR. 3.7 PNEUMATIC SYSTEM
The machine is designed and built in accordance to 2006/42/CE standards; it is complete with a pressure switch that stops the machine in case of low pressure.
PAR. 3.8 COMPONENTS
PNEUMATICAL EQUIPMENTS                         FESTO
GEAR MOTOR                                                     BONFIGLIOLI
PHOTOCELLS                                                     OMRON
LIMIT SENSORS                                                  OMRON
INVERTER                                                           SCHNEIDER
PLC                                                                      SIEMENS
BEARINGS                                                            FAG
SEALS                                                                  A+ P
PAR. 3.9 DOCUMENTATION
No. 1 printed copy of the maintenance and user manual along with the spare parts catalogue in Italian/English version.
PAR. 3.10 SAFETY GUARDS
The safety guards are interlocked in accordance to the CE standards.
PAR. 4. MACHINE CHANGEPARTS
 PAR. 4.1 EQUIPMENT FOR ADDITIONAL BOTTLES
No.06 changeparts for Round Bottles
PAR. 4.2 EQUIPMENT FOR ADDITIONAL CAPS
No.05 changeparts for caps
PAR. 5. AUTOMATIC FEEDING SYSTEM WITH SORTER
Sorter Ø 1200 mm
Cap chute to feed caps to the pick&place
Support Desk
Elevator 450Lt
No. 05 Cap change parts
No. 05 Cap Chute change parts
PAR. 6. AUTOMATIC FEEDING SYSTEM WITH SCARA ROBOTS
No. 02 Scara Robots
No. 02 vacuum cup chucks for a line of 10 caps each
No. 02 Conveyor Belts
No. 02 Feeding Belts
Cap chute to feed caps to the pick&place
Cap chute support
Please view the system here: https://youtu.be/YBvxUsN46CQ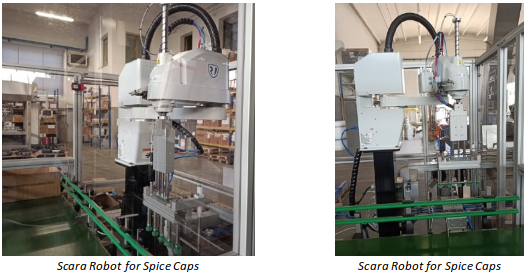 PAR. 7. OPTIONAL ITEMS
Quick release star wheel system
Missing or
high caps detector
Traction Head for the Conveyor
Idle Head for the Conveyor
Dip tray around the base of the machine with a product waste pipe
Reject system on additional conveyor belt
Kit for recommended spare parts (5% machine value)
PAR
DESCRIPTION
3
ROTARY CAPPING MACHINE Mod. INP/F-288-04
As described in all points Par. 3
4
MACHINE CHANGEPARTS
As described in all points Par. 4
5
AUTOMATIC FEEDING SYSTEM WITH SORTER
As described in all points Par. 5
6
AUTOMATIC FEEDING SYSTEM WITH SCARA ROBOTS
As described in all points Par. 6
7
OPTIONAL ITEMS
Quick release star wheel system
Missing or high caps detector
Traction Head for the Conveyor
Idle Head for the Conveyor
Dip tray around the base of the machine with a product waste pipe
Reject system on additional conveyor belt
Kit for recommended spare parts (5% machine value)