Description
  PRICING
Items

Machine

General Information

Qty

Bottling Equipment for Carbonated Beverages

1

Water chilling tank with compressor

 (2500L holding tank) 4000LPD

1 set

2

Piston filler for filling the bottle with water

Speeds up to 700BPH – 350ml

1 set

3

Carbonation Unit – (2 units at 600BPH)

Speeds 300BPH – 350ml

1 set

4

Syrup piston dosing unit

Speeds up to 1500BPH

1 set

5

Portable capping unit

With support arm & cable

1 set

6

Manual self-adhesive labelling machine

For round bottles – up to 25 BPM

1 set

7

Date batch coding machine

Ink jet coder

1 set

8

Conveyor for coding machine

1.5M long

1 set

9

Shrink sleeve heat tunnel

for pilfer seal neck tamper seal

1 set

10

Working stations – 2m x 900mm

Stainless steel catering tables

2 set

11

Installation excluding travel etc.

Stainless steel pipe work

Auxilary equipment– compressor for air and foodgrade C02 gas
1. Insulated water tank with compressor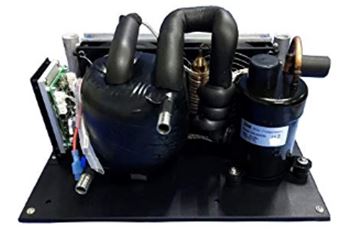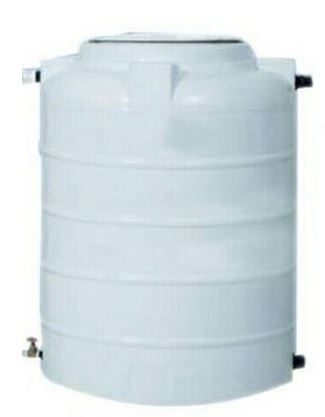 Refrigerant:                        R134a                                                               Capacity 2 500 L
Rated Voltage:                   12 V                                                                   Temperature Down to 3 Degrees from 21 C
Voltage Range:                   9 V – 16 V                                                         Body Material Plastic and insulating foam
Start-up Voltage:               12 V                                                                   Cooling Copper & stainless steel coils
Temperature Range:        -16℃ ~ 30℃ degree
Max Current:                      10 A
Cooling Capacity:               100 ~ 360 W
Capillary Tube:                   Φ2 * 0.8 m
Work Current Range:        1~8A
Noise:                                  40↓dB(A)
Vibration:                            ≤0.65 m/s2
Motor Speed:                     2 000 ~ 6 000rpm
Driver Board:                     Variable Frequency Controller
Oil Type & Amount:          POE68# 25cc
2. Bottle Water Filler
FLP Gravity Filler Series – PET Plastic Bottles
Gravity level Filling principle is used
Filling speed of up to 450 bottles per hour on still water in 500ml PET bottle
The liquid level in the product hopper is controlled by means of a plastic float valve
Machine is manufactured entirely from stainless steel
Lifting filling platforms are lifted by hand so no electricity or compressed air is required
Filling nozzles are actuated by the containers and therefore have a built in no bottle no fill function
Filling level is adjustable
Neck handling is used so with the same neck size PET bottle different bottle sizes can be handled without any adjustments
Machine suitable for 300ml-1500ml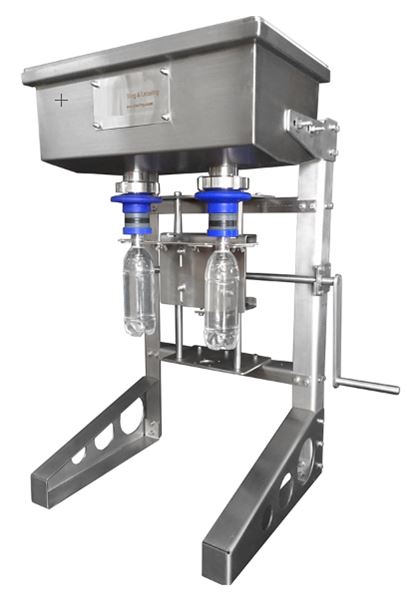 3. Pneumatic Carbonation Unit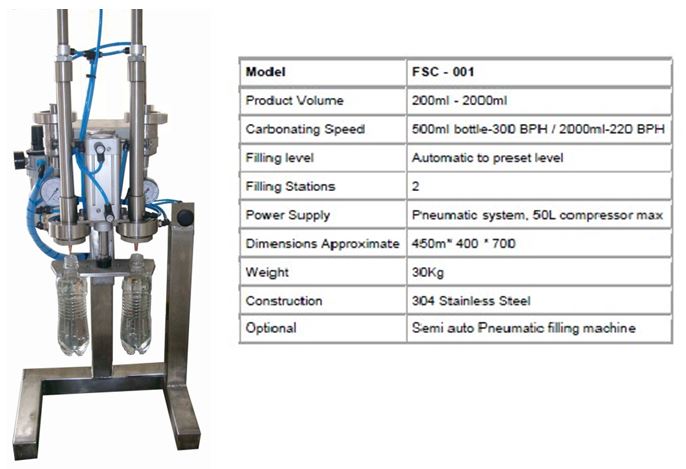 4. Piston Filler For Dosing The Syrup Mixture
Specification:                                                                                                    
Model Number: P-FIL-200
It can fill liquid, cream, sauce, jam, etc.Volume Range: 20-200ml
Filling Accuracy ≤ 0.5%
Filling Speed: Approximately 25 bottles/ minute (100ml)
Air Consumption ≥ 0.1 m³/minute
Air Pressure: 0.4-0.9 MPa
Size: 1350X450X600 (mm)
G.W: 50KG
Shut of nozzle for smooth non drip operation
Easily changeable bottom nozzle tips.
Machine operates without electricity, only by compressed air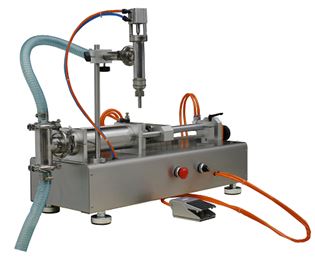 5. Hand Held Portable Capping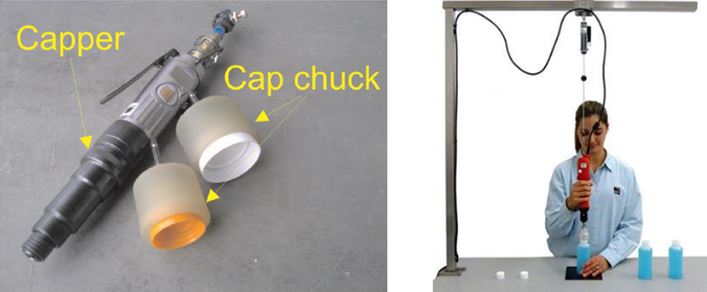 Easy to use tool for capping plastic bottles – fast. It is connected to an air compressor and is very handy and portable.
The cap is placed on the bottle and the Pneumatic Capper is pressed on the cap. It is tightened pneumatically and stops once the set torque is reached. The tightening level of the cap can be adjusted with the torque adjuster provided on the tool.
Features are:
Being pneumatically operated, it requires very little maintenance
Easy to use and requires very little skill
Light weight and portable
Uses minimum quantity of air only when it is actually capping
No electrical connection more reliable and longer life
Specification:
Power                            Compressed Air
Compressed Air           5 to 6 bar constant
Capping Head              1
Output                           Up to 1 500 PH
Cap Chuck Size             Most sizes & shapes – screw on
6. Labelling Machine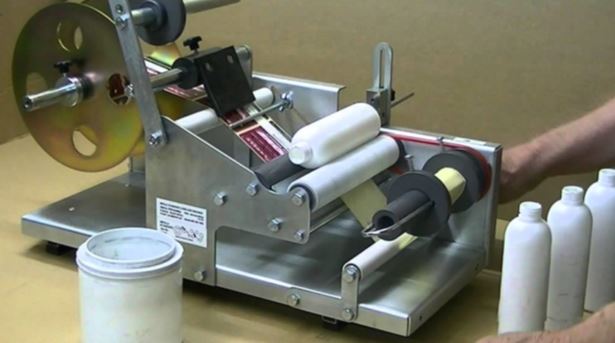 Labels can be die cut, butt cut or transparent.
No expert knowledge required to set up and operate the machine.
Ideal for unskilled labour conditions.
Change over in minutes – no tools or change parts required.
Backing paper is rolled up on a take up shaft fitted with a quick strip off clamp for easy removal Labels are applied partly or full wrap.
Robust construction – made from heavy duty steel and finished in durable electroplated zinc.
Reliable and trouble-free service over many years.
Minimal maintenance required – keep clean.
No electricity or compressed air required – fully hand operated.
Machine Dimensions:                                                                        Label Size:
Length:                                                                                                  650 mm
Width:                                                                                                    400 mm
Max Web:                                                                                              200 mm wide
Max Reel Diameter:                                                                             320 mm
Height:                                                                                                   320 mm
Min Reel Core Diam:                                                                           40 mm (40 – 50 mm)
Mass:                                                                                                     19 Kg
Bottle Size:                                                                                            From 20 mm diam to approx. 110 mm
Shipping Volume:                                                                                0.08 cub M Mass: 21 Kg
7. Coding Machine

Specifications & Technical
7-inch colour touchscreen display
Supports up to 2 print heads
Printing height up to 25.4mm (1.0″)
Easy adjustment for down and side printing
Printing on porous or non-porous surface
Printing speed up to 60m/min (200ft/min)
Resolution up to 600 x 600 dpi
8. Shrink Sleeve Heat Tunnel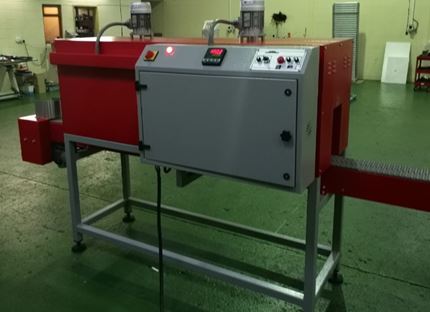 Powder Supply:                                                                                    380v 3p/220 3p
Total Powder:                                                                                       12 ∼ 15Kw
Gross Weight:                                                                                       150 kg
Heating Units:                                                                                      12 Pieces
Temprature range:                                                                              Max 320°C
Outline size:                                                                                          L 2 000 x W 600 x H 1 100 mm