Description
[smartslider3 slider=82]
OPERATION PARAMETER
Product:

Chunky Meat Pie Mix
DESCRIPTION  MACHINES
Volumetric Piston Filling Machine

Hose extension Dosing Head
Key Features:
Single head filler configuration (50-300 ml. cylinder)

Multi-stroke operations (Multiple doses per container)

Pneumatic operation

Direct from drum draw kit

Sanitary contact parts and fluid path Options:

Extended flexible dosing hose filling nozzle

Long nozzles (For bottom-up filling to reduce foam) 
Chunky product butterfly  valves for products with particles
Positive off nozzles

Product suck-back kits (Prevents Dripping)

Sanitary stainless steel hoppers

Footswitch control

Standalone frame with or without casters
Glopak's Semi-Automatic Volumetric Fillers (GPP) are piston fillers that accurately deliver a measured volume of product to each container. The accuracy of these machines ensures bottom line savings by reducing the amount of product that is used as overfill. The GPP machines are very flexible systems allowing them to adapt to a wide variety of products ranging from water to thick caulking compounds. They can also be used for lightweight containers that may be distorted by the forces of a vacuum or pressure filler. GPP fillers can also be fitted with an optional chunky product valve allowing them to fill products that include particulates.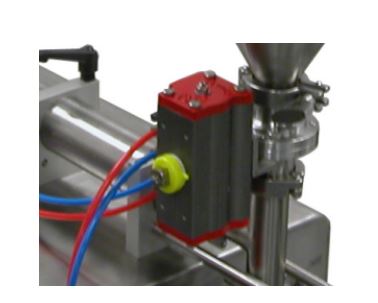 Glopak GPP piston fillers are designed to dispense a wide variety of liquid and semi-liquid products with or without particulates. These machines cater to the food, pharmaceutical, cosmetic, chemical, and a number of other specialty industries. The assortment of products that piston fillers can accommodate is almost unlimited, ranging from water thin liquids to thick creams and pastes. Though piston fillers can be used to fill thin liquids they are best suited for viscous products that other machine types are unable to dispense. Piston fillers can also be custom tailored to meet almost any characteristics including products such as salsa chunky food items. This is achieved with a butterfly valve upgrade. (Pictured Above.) In addition to being a highly versatile filling machine, the GPP Piston Fillers are constructed with heavy duty stainless steel frames and quick connect food grade contact parts providing quick and easy cleanup.
Unit Specifications
Dimensions: (121.9 cm x 36.8 cm x 33 cm) Weight: ~75 (44 kg)
Electrical Requirements: NA
Air Requirements: 80 PSI / 1.5 CFM
Output Filling Speed: Up to 30 CPM
Viscosity Range: 1 – 20,000 cps (Centipoise)
Specialty Products
Foamy Product: YES
Corrosive Product: YES
Heated Product: YES
Particulates: YES
FILLING HEAD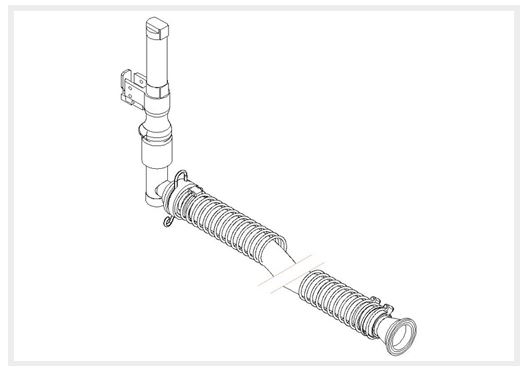 This nozzle is designed to fill doughs and viscous products with particles inside molds for the bakery industry.
The nozzle is connected to the machine by a flexible hose.