Description
PRODUCT: Cobalt Sulphate
PHYSICAL ASPECT / GRANULOMETRY: Granular + Powder. Reddish crystalline (anhydrous, monohydrate) pink salt (hexahydrate)
FLOWABILITY: Non Free Flowing
MATERIAL CHARACTERISTICS: Abrasive
BULK DENSITY: 3.71 g/cm3 (anhydrous) 3.075 g/cm3 (monohydrate) 2.019 g/cm3 (hexahydrate) 1.948 g/cm3 (heptahydrate)
MOISTURE CONTENT: Dry
PRODUCT TEMPERATURE AT BAGGING: Ambient
STANDARD CAPACITY: 5-8 Big-Bags/h – with 1000kg bag Depending on product flow and settling characteristics, bulk density, climatic conditions, humidity level in the work environment a.nd speed of the operator
REQUESTED CAPACITY: 25 Big-Bags in 8 hours shift
ACCURACY OF BAG WEIGHT (INSTRUMENTAL): The weighing systems produced by Concetti S.p.A. are comply with the European Directive 2014/32/EC (MID). Precision class MID = X (1)
WEIGHMENT OF: 1 000 kg
CONTACT PARTS: Stainless steel 304
BIG BAG :
DIMENSIONS (W x L x H): 1 090 x 1 090 x 1 300 mm 
LOOPS LENGHT: 61 mm
WEIGHT: 1000 kg
BAG CLOSING: Manual by operator (stitching)
PALLET DIMENSIONS: 1 000 x 1 200 mm
Machine:
Big Bag Filling Machine
2 m3 – Hopper
Dust Collector
Portable sewing machine
Services:
F.A.T. (FACTORY ACCEPTANCE TEST)
Packaging for Sea Transportation
Delivery
Assembly / Testing / Personal Training
Big Bag Filling Machine (LCS-MT)
Applications:
The big bag filling machine for Cobalt Sulphate into 1 000kg bag is automatic weighing and feeding, complete with weighing controller system with 4 load cells scaling and automatic weighing and release. There is matching 4m out-taking conveyors for option.The machine is controlled by computerized instrument and is easy to operate & manage. For bagging 1000kg bag, the machine will automatically weigh and fill 1000kg per bag, will automatically release the filled bag from the hooks, placed on matching conveyor and will transport it out for forklift / moving crane.
Remarks:
1. Prices payment by T/T.
2. The packaging machine includes electrical control unit, weighing, filling, bag packing section, with power supply.
4. All equipment is CE and ISO9001-2008 approved & certificated.
5. Equipment is packaged into plywood boxes.
6. All documents will be sent including B/L, commercial invoice, packing list.
7. Work manual, installation & wiring diagram, instructions, etc. all provided in ENGLISH files.
8. The packing machine is designed for 24hours operation.
Technical Parameter of Big Bag Filling Machine:
Model: LCS-MT
Precision: ±0.2%
Weighing scope: 1000kg per bag, customized needs.
Big bag pallet size: 1000x1200mm
Output Capacity: 5-8bags/hr depending on the materials features and bags supplying speed.
Power Supply: AC110/525V, 50/60Hz, 1/3 phases, made as per local electrical system.
Power consumption: ~3.5 kw
Compressed Air: 0.4~0.6 MPa (0.35m3/min)
Weight: 1500kg,
Dimension of the conveyor: W.(1200-1500)*L4000mm(1.5m + 2.5m), customized.
Main Configuration List:
Material Level Sensor                       Autonics or Rotation Level Controller
Weighing Controller                          Mettler-Toledo or Canada General Measure controller or touch screen type.
Load Cell Sensors                              SUNCELLS or Mettler Toledo
Cylinder                                               Festo
Electromagnetic Valve                      Festo
Separator                                            Festo
Motor                                                   Wan Nan (Anhui, China) or any other brand stated by the customer
Import Bearing                                   NSK (Japan)
Electric Component                           Schneider
PLC :Delta
Construction Steel :Product touching parts in SUS304 and non-touching parts in Q235 carbon steel painted.
Main Structures:
Platform & structure
Automatic lifting system
Ton bag hooks system
Automatic bag clamping system
Automatic bag inflation / blowing system
Automatic feeding filling system (with dust removing accesses)
Automatic weighing balance
Automatic vibrating system
Automatic hooks-off, bag releasing system
Automatic big bag conveyors
Electric control and Computerized Control cabinet
Maintain platform, safe guardrail and ladders
Introduction of the packing machine structure:
1- Feeding device:  Intelligent material feeding structure; via computer control module with fast and slow speed feeding. According to different materials, you could adjust the feeding speed by adjusting the transducer ( no interference ). The maximum adjustment range is 100%.
2- Weighing system:Works with USA Sensors Systems, IL series weighing load cells which has high accuracy, durability, steady working, and impact resistance. It is matched with sole drive connection structure with bag clamping device and weighing system. Has a function of automatic tare-off, automatic error amendment, zero point trace, error alarm, etc. With different interfaces, it can be connected with printer and report real time data handling, remote distributed control management, etc.
3- Weighing control unit: It includes weighing control cabin, electromagnetic valve, proximity switch, weighing terminal with PANTHER, programmed weighing controller, isolation transformer, power supply switch and relative components. It's the brain of the packing machine.  The machine also has automatic / manual operation methods. In automatic state, no need to interfere the weighing process. The manual way is very convenient for coping with an emergency.
Description:This jumbo bag filling packing machine is used for quantitative weighing packaging solid particulate material and powdery materials into big bags suck as 500kg, 1000kg, 2000kg, etc., and the main component parts as following: the feeding mechanism, weighing mechanism, pneumatic actuators, rail section, folder bag section, dust-removing section, electric control system.
Main Features:
Weighing system with the metering scales electronic scales, weighing controller, with comprehensive panel digital calibration and parameter setting, automatic tare weighing, automatic calibration, automatic error correction, alarm and fault-tolerance self-diagnostic function, high sensitivity, strong anti-interference ability.
Computerized program control.
Completed automatically drop off from the folder bag hooks, can be automatically transported to the next step by the free roller, powered roller or belt conveyor.
Advanced dust removal design, reduce dust pollution of the working environment
Auto-Features:
Micro Processor Weighting & Bagging.
High accurate load cell based. Consistent accuracy irrespective of bin levels
Three speed filling – coarse, fine-&"super fine.
Auto tare / Auto zero function
Auto in-flight correction.
Alarm signal for over / under weight
Error message & Management report.
Password protected program
VVF-drive control
Industrial safety switches
The Packing Machine Features:
The control cabinet is well sealed and with dust-proof.
All material contact parts polished without blink angle.
With dust removing access, pipeline directly connected to the user's site dust-removing system.
External bearings installation to prevent dust blocked.
Quantitative packaging, packaging number is automatically displayed. The weighing controller display the current packaging weight value and the packaging statics.
Feeding speed is adjustable for the fast, medium and slow feeding rate to determine the best target value.
Features:
It has functions as weighting, filling, transportation and packaging. The structure is compact and reasonable and the appearance is novel and perfect. It also has the features as low-noise, low-energy and easy-operation.
It is constructed with reliable weighing controlling system and 4 load cells, which can achieve higher capacity.
There is a digital controlled filter, analogue filter, eliminate mechanical vibration and impacting materials to improve the speed and precision.
It feeds automatically and track the changes about the flow of materials. This function ensures high precision.
Multi-functional display, fault monitoring, automatic diagnosis technique and several data communication interfaces(joined by computer or printer)to make site management and centralized control management easy.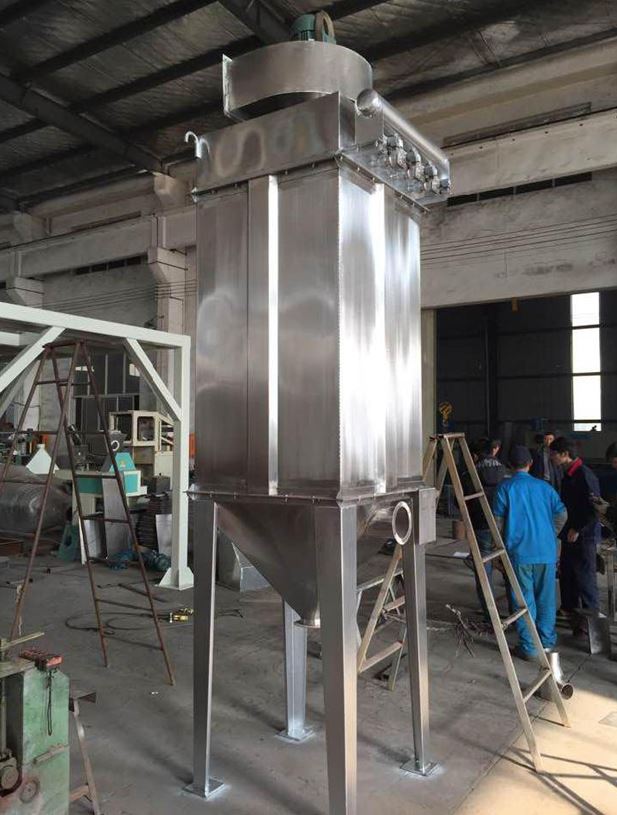 Weighing Controller Features:
Using the most advanced pre-set weighing controllers, the controller has a super zero stability and stable performance gain.
A/D conversion process with high speed 100 times / sec, can respond quickly for the weight change, thus greatly improving the weighing accuracy.
All inputs can be guaranteed within 1/10000 display accuracy.
Optionally adjusting the strength of the filter to control the impact generated due to mechanical vibration, thus ensuring high-speed accurate measurement.
Protection from power off. The data will also be record if unexpected cut of power.
Automatic zero adjustment, zero start and zero clearance circle.
Automatic error amendment, over-error alarm, over-weight alarm, less-weight alarm, zero place alarm, lower material level alarm and also higher material level alarm.
There's temperature compensated instrument, automatic weight adding, and automatic adjust the weight error till it up to the set value.
The device has the features of shorter feeding time, working more effectively, fewer additional actions, high success ratio of bagging, less spilling, no dust, automatic supplying bags, safe and reliable, etc. facilitating the equipment parameters adjustment, graphic display, voice alarm, including alarm of short-thread, lacking thread, no bags, low material level, etc.
Weighing Structure Features:
Feeding quadratic forms and feeder cylinder radial gate control form, coarse and fine feeding, secondary complete. Speed and accuracy to be guaranteed. During the end of the coarse feeding, cylinder control gate is to close the coarse feeding outlet door, and then by fine feeding spout finely feeding and the remaining portion of the air falling volume setting. After the fine feeding, the feeding discharge door is fully closed, the whole feeding is finished.
The advanced weighing controller with USA Motorola chip, Anti High Temperature, Anti Aging, A/D conversion process with high speed 100 times / sec, and with BESSEL filter,could deduct the impact generated due to mechanical vibration.
Features
Easy to install
The machine equipped with imported high-precision sensor, high intelligent weighing controller, with high weighing accuracy and stable performance. Weighing indicator and controller used for packing and batching weighing systems, stable operation in industrial environments, easy to setup and change setting value depending on bag capacity, materials and other requirements. Wide range of quantitative packing weight with high packing precision, and matching with bags belt conveyor.
Simple button operation panel. Easy to change target weight values. Automatic tracking, correcting and alarm. Simulation automatic detection, the real fault diagnosis, convenient, maintenance and detection. Available with several automatic statistics, with RS485 serial access, printer interface, and computer communications, data printing, etc.
Adjustable, more reliable, non-polluting. Adopted stainless steel to avoid anti-corroding, electrical overall counter sealed to prevent the dust falling into electrical cabinets, electrical protective effects. Safety design, aerodynamic components, electrical components has security protection to ensure the safe of the equipment. The materials touching parts with made out of stainless steel which is safe and sanitary and not easy to eroded, so the equipment with a long operating life. Stainless steel surface polished, mild steel surface painted by three-layers coating.
BLM—I series pulse cloth dust collector adopts advanced technology and high pressure blowing ash, cylindrical structure, flat bottomed scraper discharging, with features of low resistance and high efficiency, centrifugal tangential air injection and saving energy, reduce the height and so on. This dust collector is widely used in grain and oil food industry, light industry, chemical industry, mine mill, cement plant, woodworking field and others for dust removing, materials recycling, pollution material eliminating, and environment protection, etc.
2. Main features and applicationBLM—I series dust collector is bag type pulsed dust collector, which is the second generation of TBLM series. And the main structure features as following:
2.1 Cylinder type, increase the body stiffness and strength.
2.2 Tangential centrifugal feeding methods, helps to reduce the resistance of the equipment and reduce the bags load.
2.3 The box under adopts the flat bottomed scraper type, dust will be scrapped to the discharge outlet by scraper and it's good to avoid dust accumulation, meanwhile, it also helps to reduce the height of the equipment.
2.4 High pressure pulse to blow and clean the bag dust collector, and the
air source required is compressed air with oil free, water free, anhydrous, and it's better to prolong the life of pneumatic components and ensure the safe use.
2.5 It's with big volume of blow rate, small occupation area and low noise.
This dust collector is widely used in grain and oil food industry, light industry, chemical industry, mine mill, cement plant, woodworking field and others for dust removing and powder recycling.
3. Main structure
BLM—I series pulse cloth dust collector consists of 1. upper shell body 2. air bag 3. air out access 4. middle shell body 5. cloth bag tube 6. air intake access 7. lower shell body 8. dust scrapping device 9. discharging device 10. pulse controlling instrument.
4. General technical parameters

The dust collectors designed with back flushing system by pulse control, working stable and reliable and effective
5. Technical data, cone bottom type, with rotary valve
Rated input voltage AC220V(1±10%)
Rated output voltage DC24V
Rated output current 1A
Power consumption: fan 2.2kw(The pulse width and interval within the rated range)
The adjusting range of output pulse interval 1~99Ses
Adjusting range of output pulse width 0.02~0.15Ses
Adjusting range of output pulse cycle 0~99N