Description
Rinsing, Filling & Capping Machine / GPF 12-12-5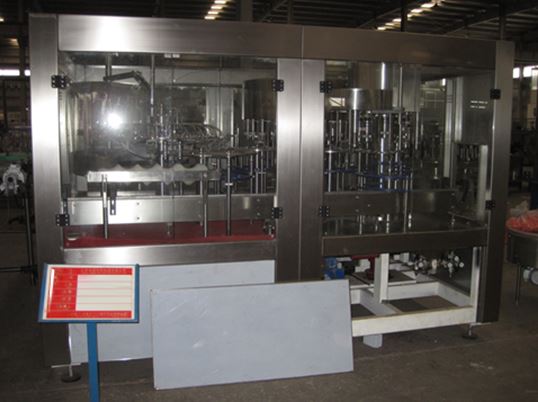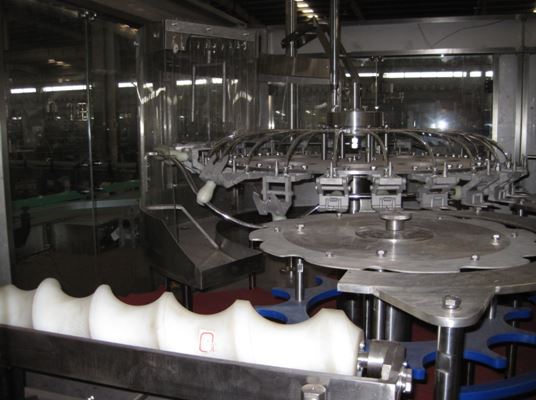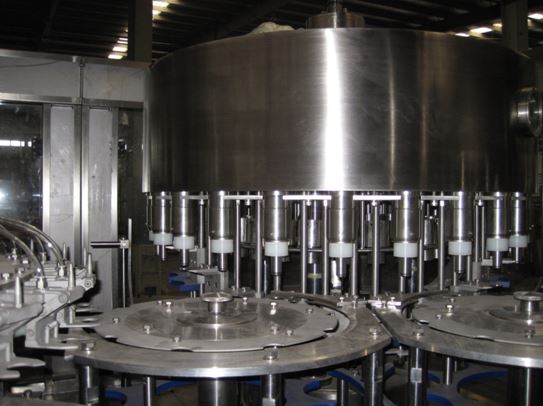 GPF12-12-5 / 3-in-1 machine for PET bottles used for washing, filling and capping
Main features:
Compact structure, perfect control system, easy to operate and automated.
Stainless steel, anti-corrosive, easy to clean.
High speed filling valve, precise liquid level with no waste.
Constant torque magnetic capping heads.
High efficient cap arranging system, perfect cap feeding and protection.
Bottle rinsing before filling
For different shape and size bottles, only change part is the star-wheel – quick change over.
Overload protective for to ensure operator and machine safety.
Variable speed
Control system for shortage detection, bottle block automatic stop and production counting etc.
Technical parameter
Type:                                                GPF12-16-5 (S)
Working location:                          Rinser 12, filler 12 capper 5
Production capacity:                     2 000BPH (5L)
Air source pressure:                     0.7MPa
Air consumption:                           0.8M3/min
Rinsing water pressure:                0.2-0.25 MPa
Rinsing water consumption:        1.8 t/h
Filling way:                                       Gravity filling
Host power:                                     3KW
The total capacity:                          4.5KW
Voltage rating:                                 380V
Dimension:                                      3 560 x 2 960 x 2 700mm (L*W*H)
Weight:                                             5 000Kg
Cap Feed System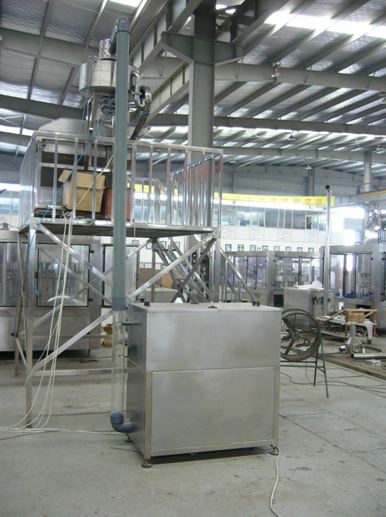 Technical parameters
Fan motor: 380V, 0.55KW
Vibration motor: 380V, 60W
EQUIPMENT LIST
S/N
System name
Equipment name
Capacity
QTY
1.
Bottle feeding system
Conveyor chain frame and structure
S/S 304
2.
Chain belt
3.
Motor and reducer
SEW
4.
Cable trough
5.
Bottle filling system
GPF 12-12-5 (S)
1200BPH (5L)
1 set
6.
Control system
1 set
7.
Rinsing water pump
1 set
8.
Material pump
1 set
9.
Centralized lubricating system
1 set
10.
Back flow water tank
1 set
11.
Bottle change over parts (3L)
1 set
12.
Cap feeding system
Ozone or UV sterilization cabinet
1 set
13.
Cap elevator
12000BPH
1 set
14.
Bottle dryer
1 set
15.
Accumulation conveyor –
300B
1 sets
16.
Labeling system

(OPP label)

Liner type OPP labeling machine

SPP-HG2-12K-XL (from SPP original in Taiwan)

2000BPH

(5L)

1 set
17.
Bottle change over parts (3L)
1 set
18.
Laser jet printer
1 set
19.
Final packing system
PE film shrink wrapper with carton tray YCBS6535Z
10 packs/min
1 set
20.
Bottle change over parts (3L)
1 set
21.
Full bottle conveyor system
Conveyor chain frame and structure
S/S 304
22.
Chain belt
23.
Motor and reducer
SEW
24.
Cable trough
25.
Water accumulate disk
26.
Waste water drain pipeline
27.
Case conveyor after shrinking wrapper
Case conveyor structure and frame
S/S 304
28.
Conveyor roller
29.
Conveyor lubrication system
1 set