Description
INP series 2500bottles/h (5L) 8-8-4 Water Bottling Machine
INP SERIES 2500 BPH CAPACITY 5 LT PET BOTTLING LINE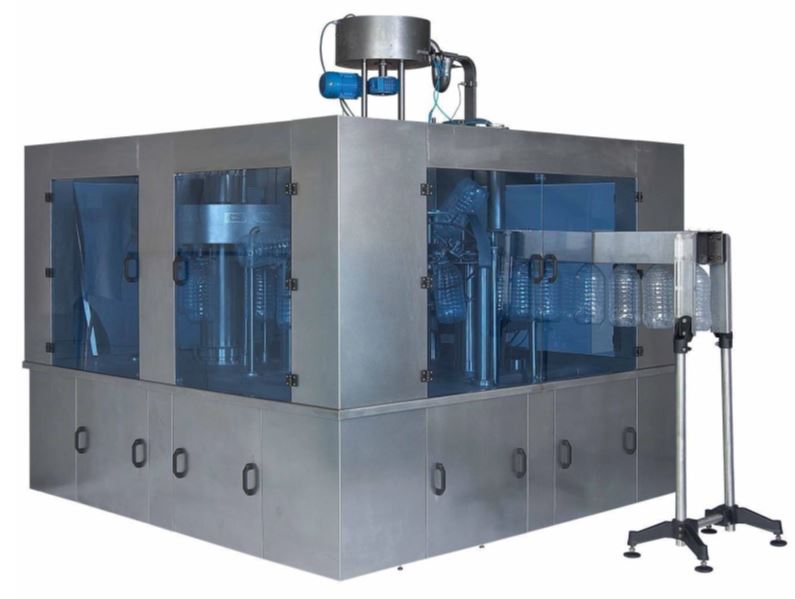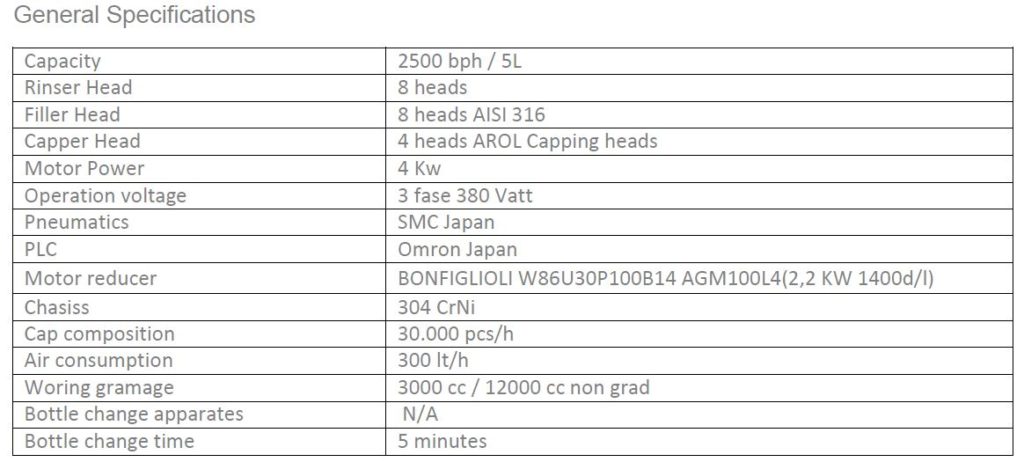 Bottle transfer system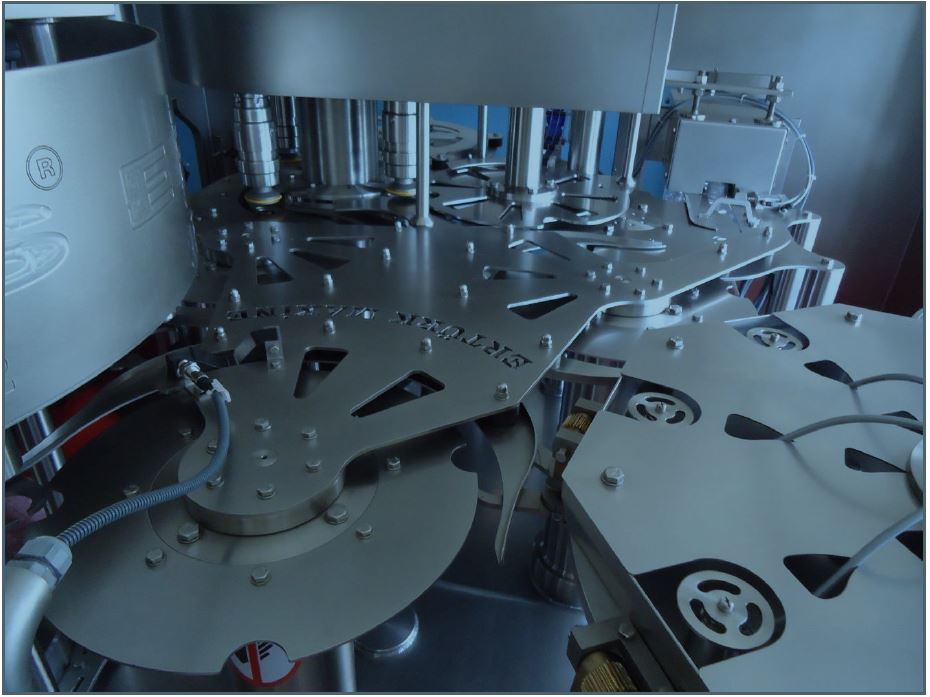 MB Series pet bottle rinser ,filler, capper 3in1 monoblock units works with the neck- carry system, In this system there is holding arms in all around the machine and that holding arms carry the bottles from neck ,this system used by the best filling machine producers in the world.
This system gives you time saving by no need to change parts or settings between different size of bottle, this machine can fill all size of bottle in same neck dimension without changing any part or setting
Head rinsing unit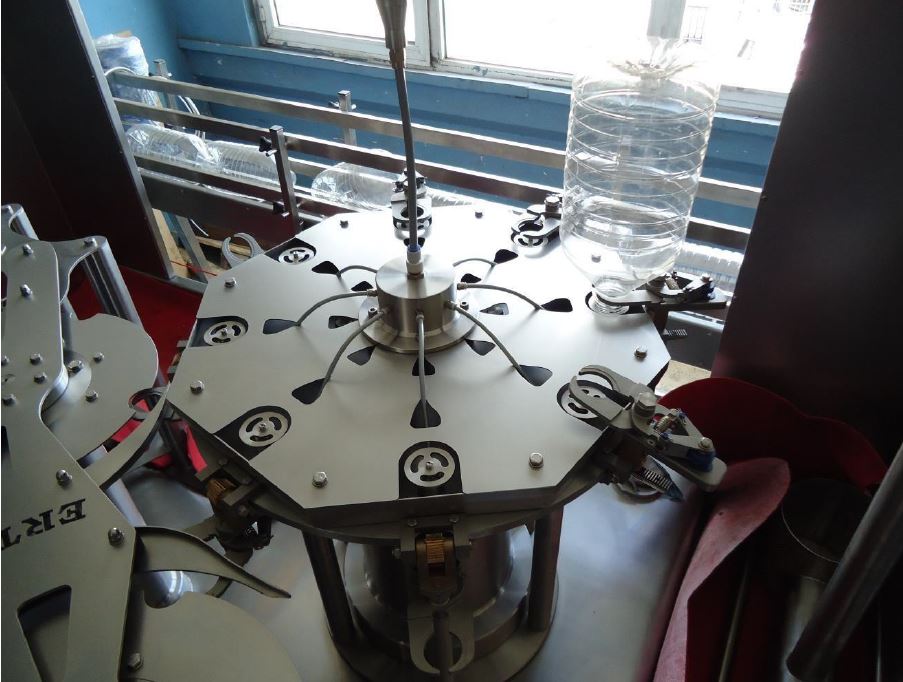 Rinser unit operation:
1. Empty bottles coming from air conveyor directly to infeed star
2. Bottles pass to rinser unit from infeed star
3. Bottles turns 75 ° at first to prepare to rinse
4. Bottles turns 90° and press the nozzle to spray water
5. No bottle , no spray water system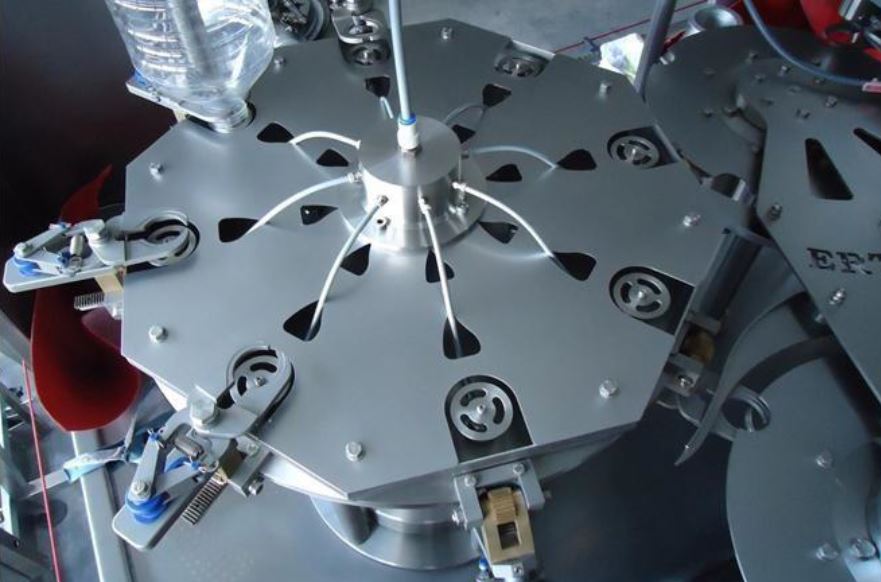 1. Patented gripper system
2. Bottle motion by linear motion system, newest system in country and patented
3. Rinsing the bottles with special sprayer with pressured water
4. Then the bottles turn 75 ° to drill
5. Have special trays for drilled water under the bottles
6. Then bottle turns upside down and ready to pass other unit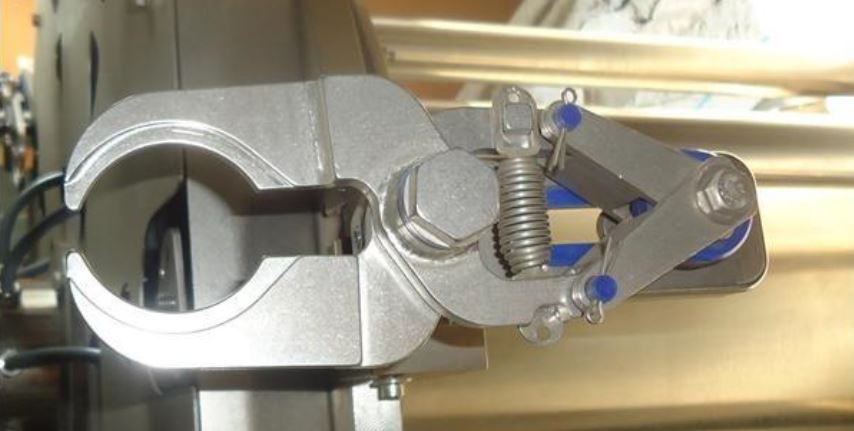 1. Grippers has special USA spring system, same system using in 30.000 bph capacity machines and bottles never fall down.
2. Water can be taking from ozone water tank or directly the filling water tank
3. There is another drainage in the chassis all waters drain to a pipe and can be direct to anywhere the customer wants.
4. Whole rinser unit made by 304 CrNi SS , and nozzles are made by 316 CrNi SS material
HEAD NON-CONTACT HYGIENIC FILLING UNIT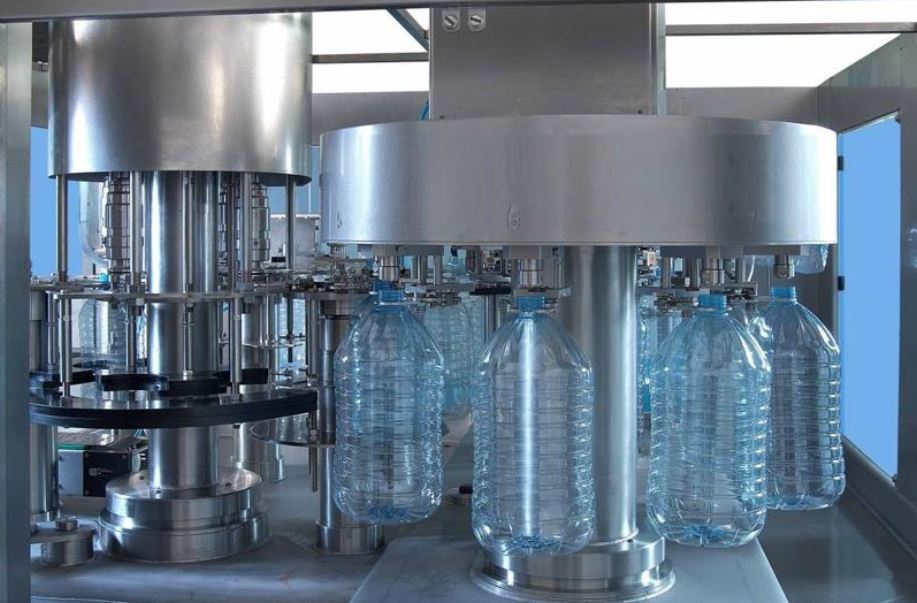 1. The bottles after rinsing coming to the filling part by transpass stars carrying by neck
2. Patented nozzle system, not going inside the bottle and not touching the bottle while filling.
3. Pressure controlled filling, one of the best reliable filling control system.
4. Product tank with level control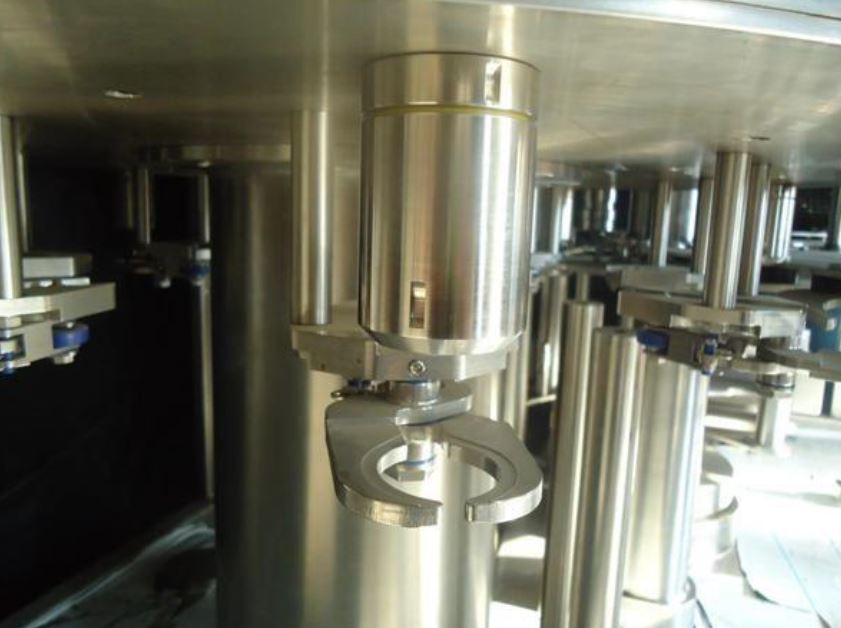 MB SERIES 4 HEAD CAPPING UNIT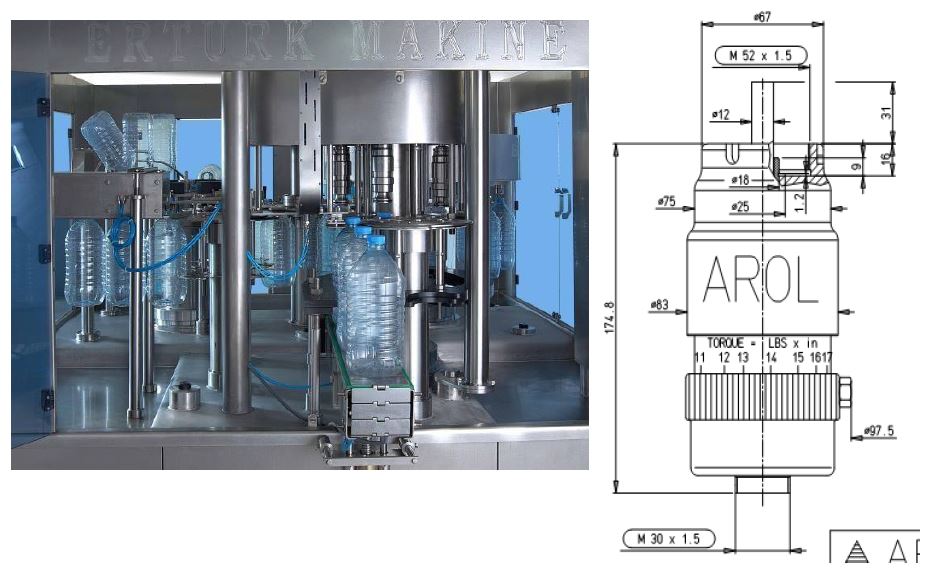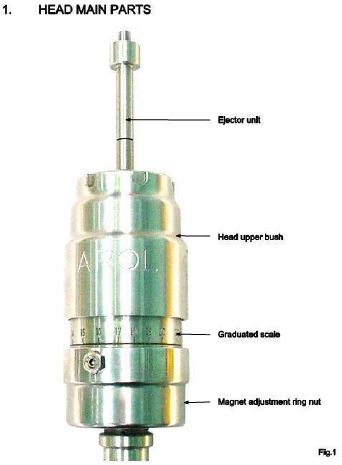 ✓ Best ITALIAN capping head in the world (AROL)
✓ AROL magnetic torque capping heads
✓ No bottle no cap
✓ Cap's elevator unit iwith cap's hopper are included in the offer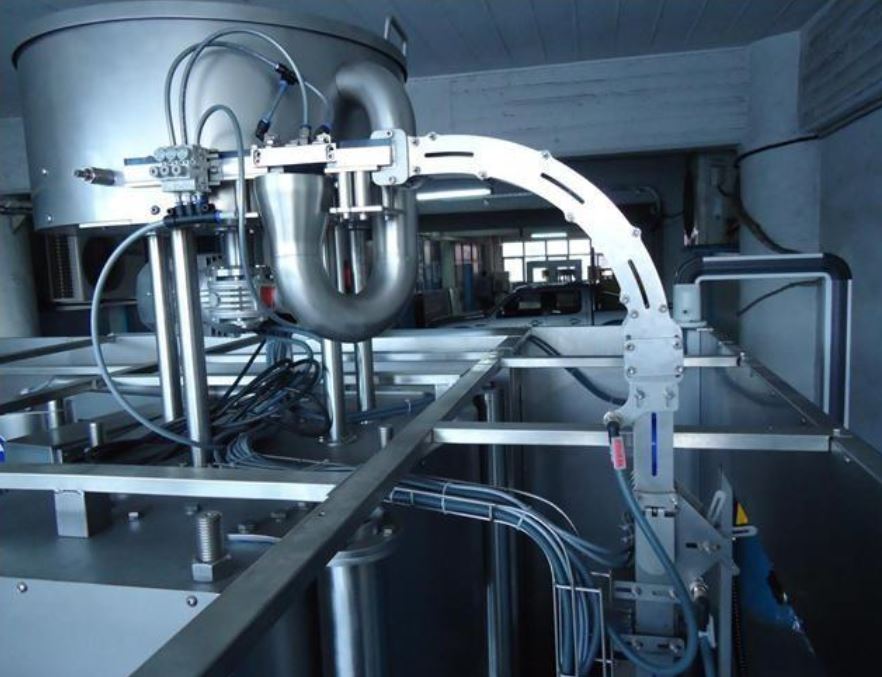 0, 01% reverse cap range / Reverse cap hitter system
Electric and electronic equipment and electrical panel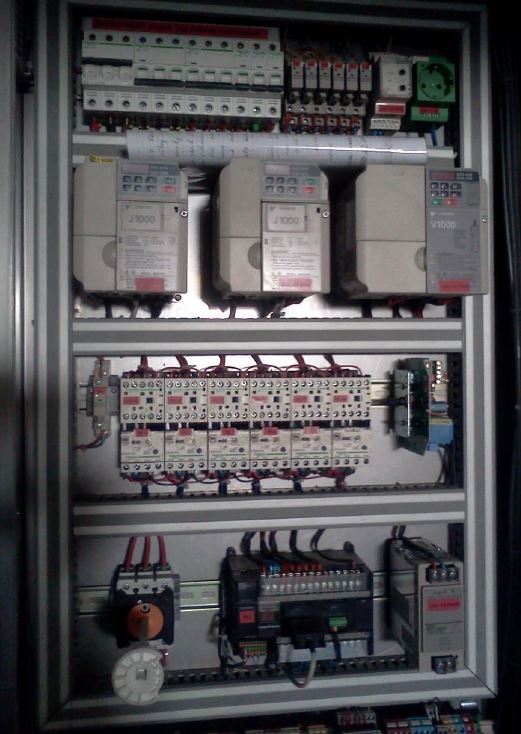 1. PLC Omron Japan
2. Pneumatics SMC japan
3. Motor Bonfiglioli
4. Pumps Ebara or Lawaro
5. Electrics Schenider France
6. Driver Omron
7. TouchScreen EasyView
CONVEYORS
1. Air Conveyor
Air conveyors carrying the bottle by air from neck and bringing the bottle from blowing section (or feeding by hand) directly to infeed star.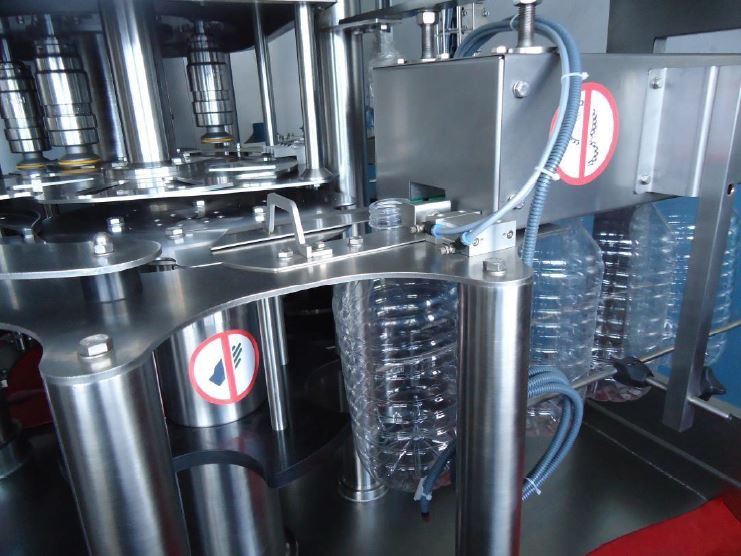 In case of manually feeding of empty bottles and based on the required capacity have to be foreseen conveyor for empty bottles up to rinser filler capper with total length 5 mt
Air conveyors made by stainless steel and there is plastic neck protector from Italy. Each 8-10 mt conveyor has fan.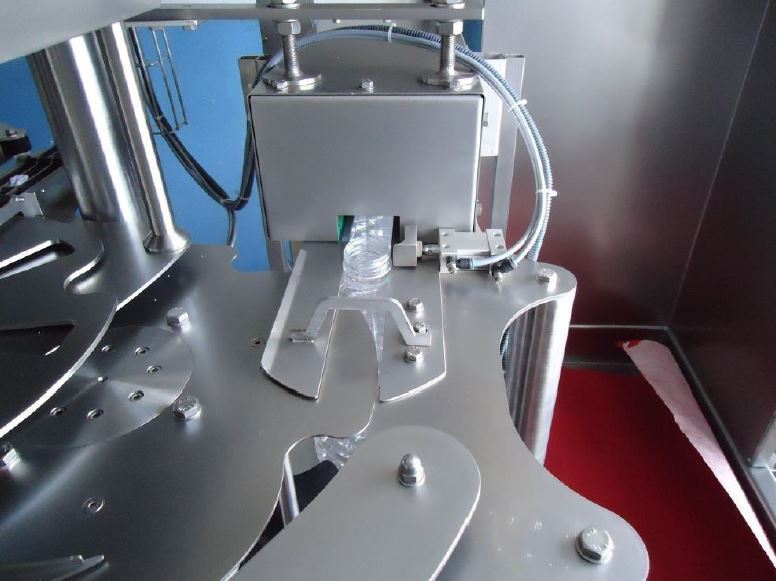 2. Accumulation tabletop conveyors for full bottles
For full bottles from rinser filler capper up to the labeler and from the labeler up to the end of the line.
This conveyor length will be calculate according to system and machine after filling machine. With filling machine there is 2 mt conveyor already given?
Accumulation conveyors made by stainless steel Chain Italian pallets on it Shafts (drive-idler) made from stainless steel Thermoplastic two pieces sprockets Resistance corrosion bearings Side guides (adjustable width) Central system with proper bowls.