Description
2000CPH Carbonated Beverage Canning Line:
2000 CPH – CSD beverage canning line / based on a 330ml can
Section A – Liquid Processing, Carbonation, Chilling, CIP (Clean in place)
Carbonated beverage mixing machine
4T
Water chiller
30HP
CIP cleaning system (Steam type)
500L
CIP back pump
3T/h
Steam boiler – Diesel type
100kg/h
Connection pipes and fittings
Match
Section B – Filling & Packaging
Loading table
2000CPH
Can twist conveyor
Can rinsing tunnel

Including water tank, water pump

4000CPH
Nitrogen dozer
Filling & sealing machine 12-1
2000CPH
Can inverter
Ink jet coding machine
Cartridge type
Semi auto shrink wrapper
3-4 packs/min
Conveyor
Plate chain slat                                 
Shrink sleeve heat tunnel
Electric type
Change part for different diameter can
Filling & Capping
1) Carbonation System (4T)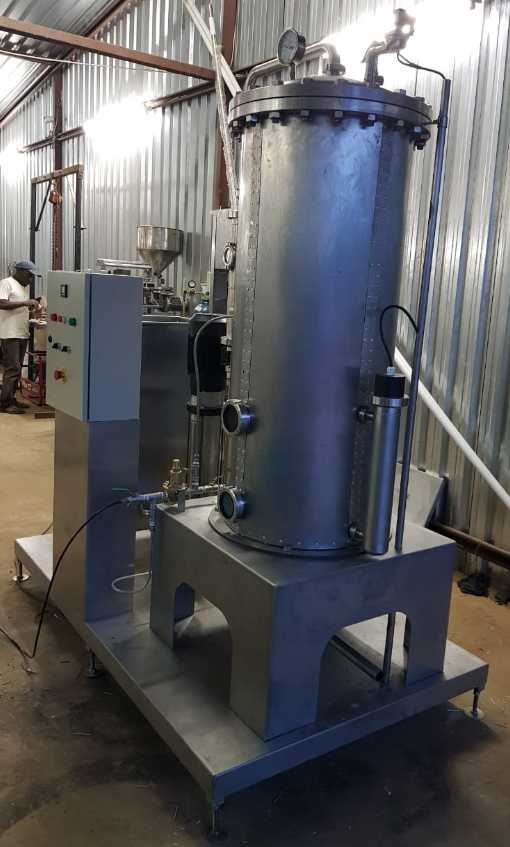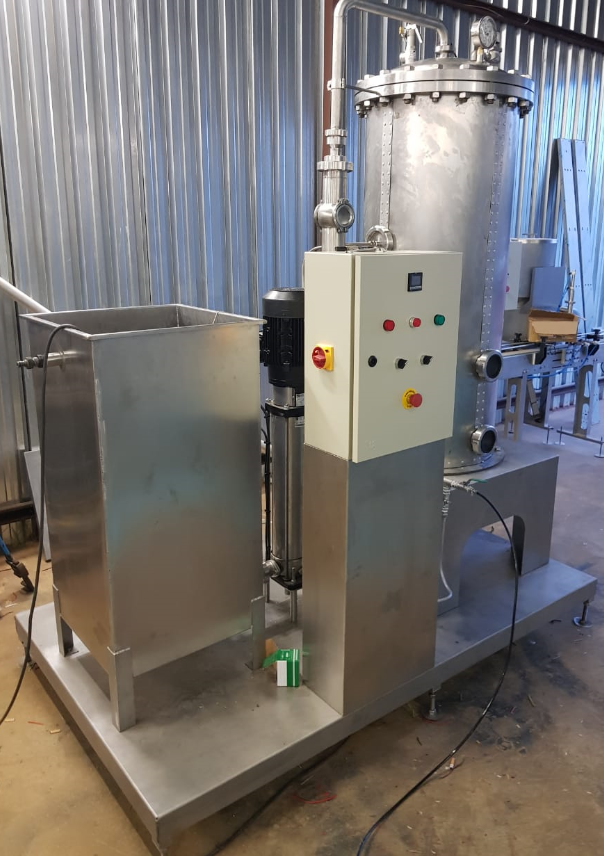 The product is delivered direct from the storage tank to the stainless-steel receiver vessel which contains pump level management systems.
The product is then pumped from this vessel via the progressive cavity pump system, this ensures continues pressure. The product is then received in the carbonating pressure vessel, this vessel contains its own level control system.
Product temperature is closely monitored by its own controller which changes CO2 volumes according to the temperature change. This gives continuity of C02 within the product if a change of temperature occurs.
Before and during carbonation, de. Aeration takes place, removing any air/oxygen contained in the product.
Pressure vessel manufactured to standard and 3rd Party inspected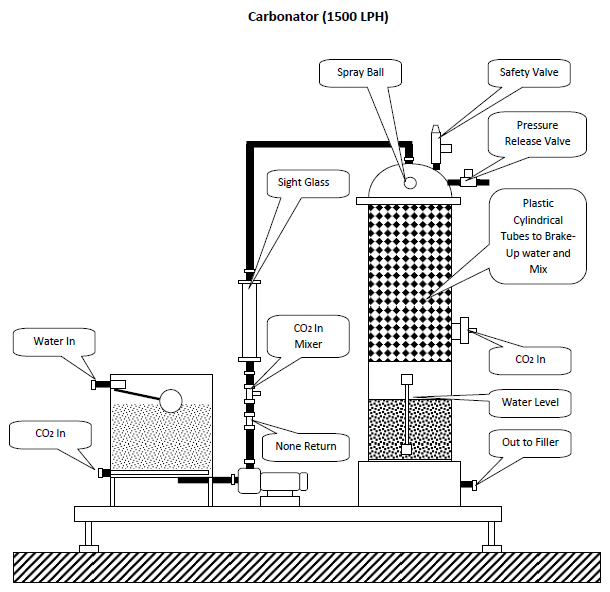 | | |
| --- | --- |
| Production Capacity | 4000 litre per hour |
| Mixing Volume Ratio | 3.5 ~3.8 |
| Mixing Proportion | 3:1 to 6:1 |
| Mixture Precision | ≤1.5% |
| Pressure of Compressed air (MPa) | 0.6-1 |
| Compressed Air Consumption(m³/h) | 4 |
| Pressure of CO² (MPa) | 0.8-1 |
| CO² Consumption(m³/h) | 3.5 |
| Pressure of Purified Water(MPa) | 0.1-0.2 |
| Mixing Temperature(c) | <4 |
| Power Consumption (kw) | 2 |
| Dimension(L×W×H) (mm) | 00 |
| Net Weight(kg) | 1200 |
| C02 Volume | Can be adjusted via the regulating valve |
2) Chilling Unit (30HP)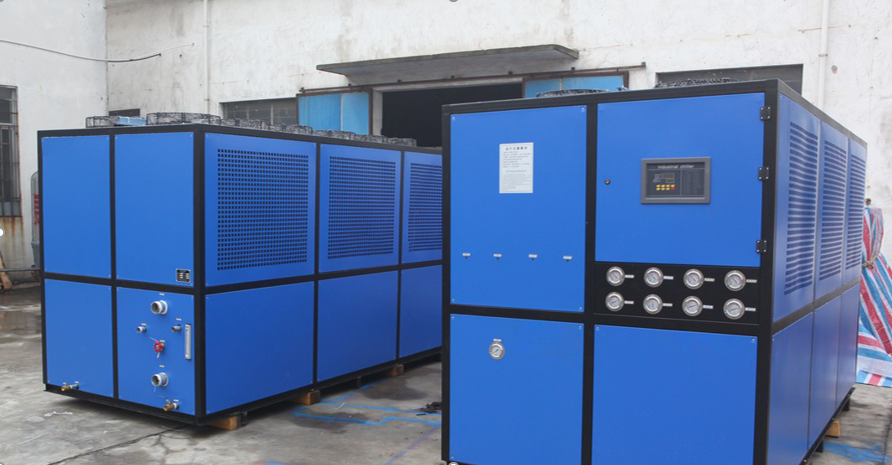 Capacity:74990 KCAL/H
Current when using:58.5 A
Power :3N~380V/50HZ
Refrigerant: R22
Compressor type: full block out eddy circle type
Compressor power:11.3×2 KW
Fan capacity:30000 M3/H
Water inlet pipe diameter: G2.5inch
Water pump power:75 KW
Freeze water flowing:15 M3/H
Total input power:4 KW
water pump distance:240 Kpa
Overall dimension: 1960*960*1860(MM)
Weight: 880 KG
Specification
Compressor: Japan Dakin compressor, super-high efficiency, lower noisy, safe and reliable
Japan CKC PROTECTOR
Pump: Taiwan YUANLI big volume backset water pump special used for chiller. PLC interface controller.
Temperature controlled: Taiwan BANGPU digital temperature controller electrical board.
Japan KOBE cooper pipe condensator, evaporator,
American imported Emerson high efficiency filter.
Korea LG contactor, and heat relay.
Danfoss: EXPAND VALVE Throttle controlling.
3) CIP Cleaning System (steam type)
CIP cleaning system
The CIP, clean in place equipment is used to clean the pipe system, filling unit, tanks etc.
A centrifugal pump is used in CIP to convey cleaning liquid into the system to force the clean liquid to circulate to make cleaning without taking apart pipes or equipment. With this system, its faster to clean between batches and is a less labour intensive.
The application of the equipment must be combined with the equipment of the workshop pipe collocation and rinsing cap.
Technical parameters
Working pressure
Container: Liquid cylinder static pressure
Replace heat tube: <0.4MPa
Liquid slot: 60~80℃
Clear water slot: indoor temperature
Replace heat tube: <138.8℃
Name of material:
Store slot: 0.5% nitric acid liquid, 2% causticity alkali liquid
Replace heat tube: Clear water steam
The whale cubage:
Acid、alkali liquid slot: 1×0.6m3
Washing groove: 0.6m2
Rate of carrier: 80%
Volume type: normal pressure
Washing stage: 2
Washing time for one time: 120min.
Washing process: clean water—alkali liquid-clean water-acid liquid—clean water
Centrifuge in-out put screw: t55*3
Centrifuge flow volume: 10t/h
Centrifuge maximum distance: 39
Motor power: 2.2kw 2840rpm
Overall size:
Weight of equipment: 1035kg
4) Oil Fired Steam Boiler (100kg/hr)

Technical parameters
| | | |
| --- | --- | --- |
| Project | Unit | Specification |
| Steam Capacity | Kg/hr | 100 |
| Rated working pressure | Mpa | 0.7 |
| Hydraulic testing pressure | Mpa | 1.05 |
| Oil consumption | Kg/h | 7 |
| Thermal Efficiency | / | 90.5% |
| Water Pump Power | KW | 1.1 |
| Power Supply | / | 380V/50Hz |
| Saturated steam temperature | °C | 170 |
| Main steam valve diameter | DN | 40 |
| Safety valve diameter | DN | 40 |
| Infall diameter | DN | 25 |
| Sewage valve diameter | DN | 40 |
| Overall dimension L*W*H) | mm | 1200*1200*1650 |
| Weight | kg | 800 |
5) Loading Table
Size:1M length *0.6M width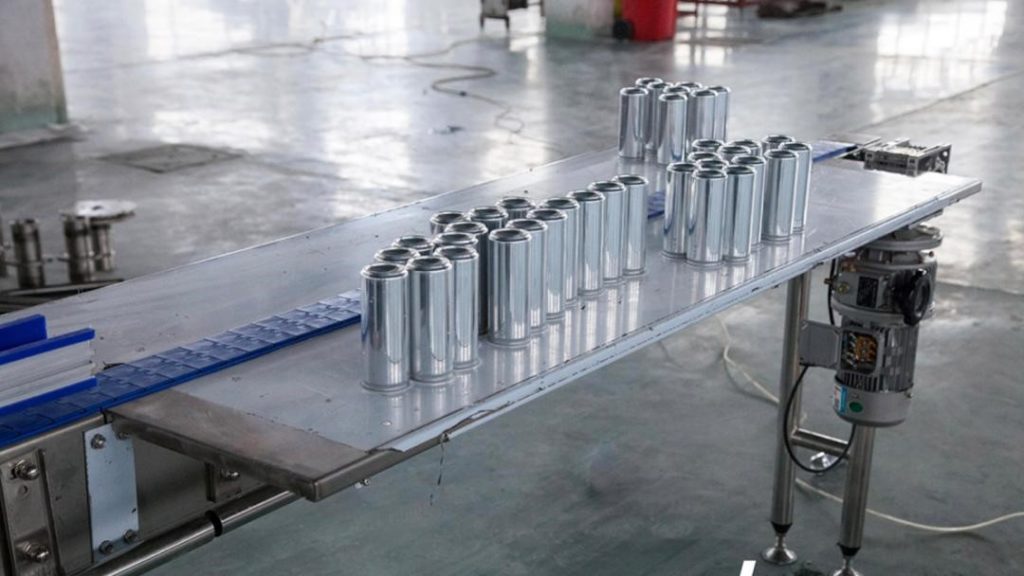 6) Inline Can Rinser
7) Nitrogen Doser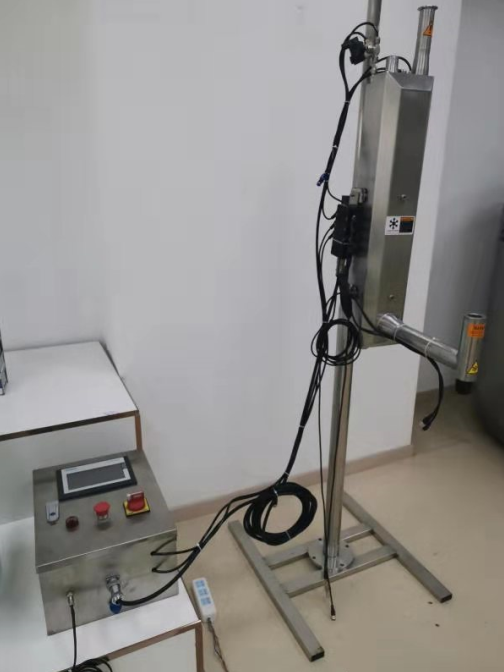 Liquid Nitrogen Dosing Machine for bottling and canning application. It controls dosing volume accurately, no- -container -no-liquid dosing, small size, easy installation and could coordinate with any filling production line. Control system comprises Siemens PLC and touch screen, heat- insulated pipes which could ensure minimum consumption of liquid nitrogen and no frosting under operation condition.
NDW-300 production speed: 0-300 units/min
8) Filling & Sealing Machine (12-1)
Carbonated beverage can filling and sealing machine.
Equal pressure filling principle and automatic can seaming function
PLC Control and man-machine interface touch-screen siemens touch screen.
With high precision automatic balanced pressure filling valve and long-life sealing wheels.
No can no filling and no can no sealing feature.
Production speed can be set on the touch screen according to requirements.
All common malfunctions will send out alarms automatically.
According to different malfunction levels, the PLC will automatically determine if the operation shall continue or the machine shall be stopped.
Filling heads: 12pcs
Sealing heads: 1pcs
Capacity: 2000 cans per hour (330ml)
Can diameter: Ф65 mm
Can height: 120-160mm
Power: 2.2kw
Weight: 1500kgs
Dimension1750mm×1140mm×1950mm (L×W×H)
Filling pressure: 0.5Mpa
Filling temperature: 0-4℃
Remaining Oxygen Content: <0.6mg/L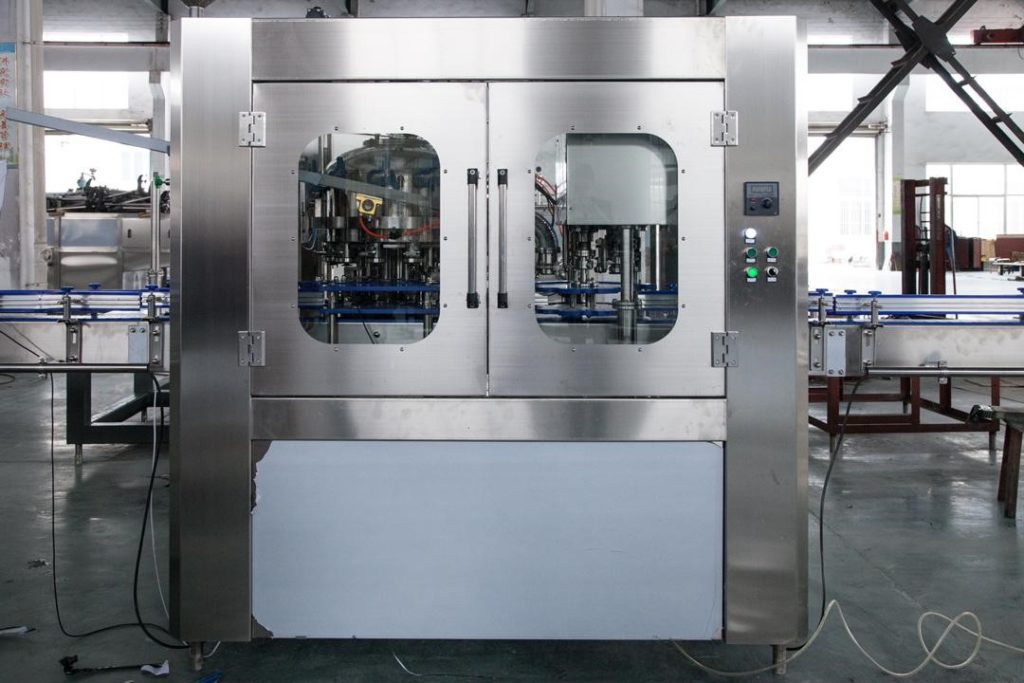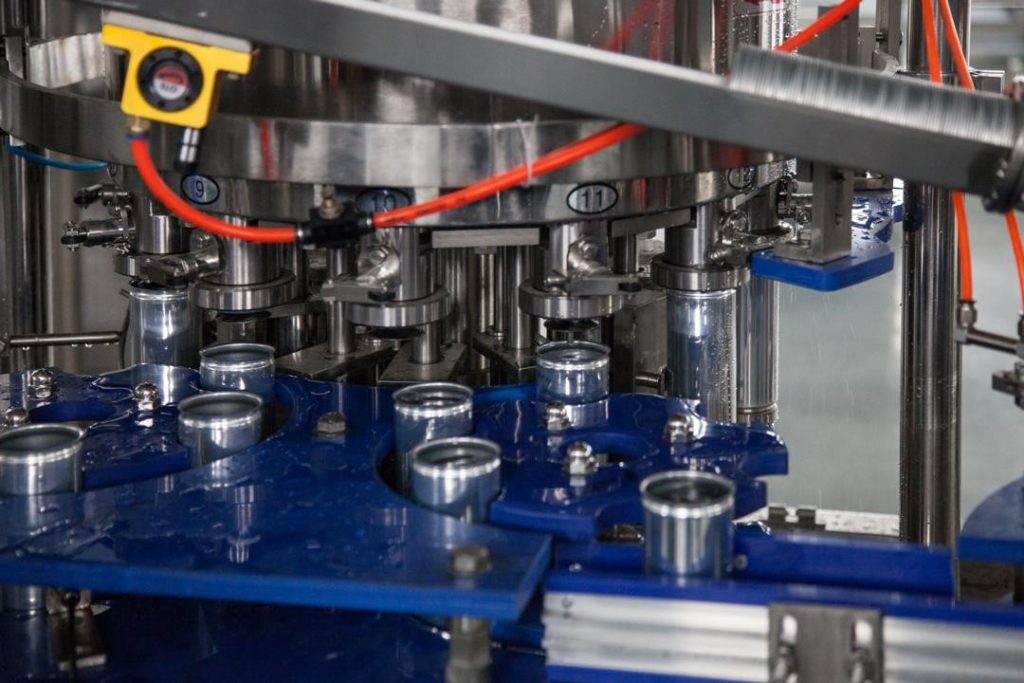 Can Sealing (Seaming)
The sealing roller, alloy hardening (HRC> 62), the sealing curve is machined with an optical curve for accurate closing.
The seaming head can be adjusted according to the can size.
Taiwan capping wheel and pressure head.
No can no sealing control system to ensure the normal operation of the machine and reduce wastage.
Process
During filling, the empty cans pass through the star wheels and then is raised and sealed seal gasket under the filling valve.
The turn block of the filling valve is opened to lease the beverage into the can.
Air is filled into empty can to form equal pressure to start the filling process.
When the liquid level in the can blocks the gas return pipe, the filling stops.
The de-foaming valve will slowly discharge the air and pressure, the can supporting cylinder will lower the can.
After it's discharged, the can is sent to the can seaming where the can end is placed on the can and then seamed.
9) Ink Jet Coding Machine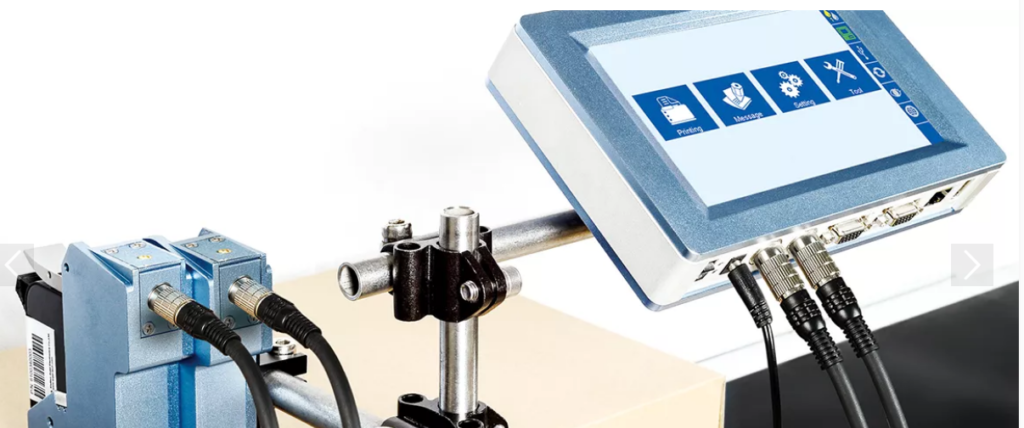 7-inch colour touchscreen display
Supports up to 2 print heads
Independent controller separated from the print
heads, suitable for various working environments
Printing height up to 25.4mm (1.0″)
Low periodical maintenance
Clean and trouble-free technology
User-friendly interface
Easy integration into any production environment
Easy adjustment for down and side printing
Printing on porous or non-porous surface
Ability to backup settings, logos, and messages
User level password protection
Automatic recognition of inks (aqueous or solvent)
and application of appropriate printing parameters
Controller stores up to 500 messages internally
Ethernet and USB connectivity
PC software for message template design
Printing speed up to 60m/min (200ft/min)
Resolution up to 600 x 600 dpi
10) Electric Shrink Sleeve Tunnel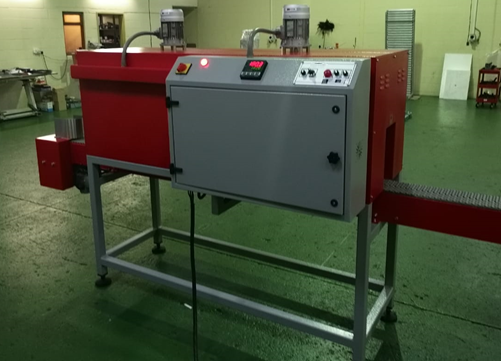 MACHINE FEATURES
Frame: Heavy duty mild steel
Finish: Powder coated (Goose grey and red structure)
Heat Chamber Dimension
Length: 2000mm
Width: 200mm
Height: 300mm
PLC: Delta DVP 14
VSD: Yaskawa
Conveyor: High Heat Modular
Switch Gear: Lovaio
MCB: Hager
Heating Capacity: 12 Kw
Geared Motors: Motovario Italy
Electrical Requirements:
38OVolts 3 phase neutral earth. (25 amps per phase)  
Speed: Up to 100pc/min
11) Exit out feed table
Material: SS304
Size:1M length *0.6M width
12) Shrink Wrapper (semi automatic)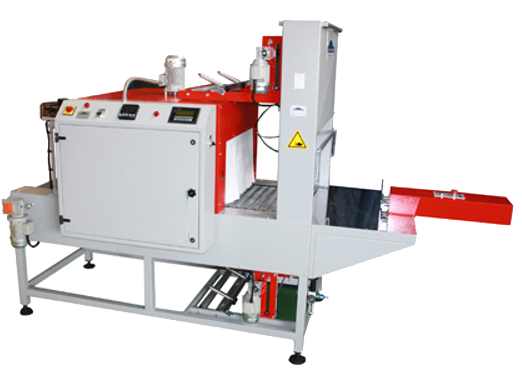 Capacity: 2-5Bags/min
Sealing time: 0.5-1.5s 0-0.5s
Shrink film :PE /PET/POF film
Power supply  :1.8kw
Heating power:28kw(adjustable)
Conveyor loading: 25kgs
Conveyor speed:10m/minute
Film thickness: 0.04-0.12mm
Max. Packing dimension: L *W *H  450*270*350MM
Min Packing dimension: L*W*H 250*60*60MM
Machine head dimension: 1020*830*1980mm
Shrink tunnel dimension:1200*500*380mm
Machine dimension:2200*780*1470mm
Machine weight :450KG
13) Conveyor
Buffer time 3~4 minute
304 stainless steel frame
PLC control, automatic conveying speed adjustable