Description
1 Liter PET Bottle Line for Beer & Beverages (10000BPH)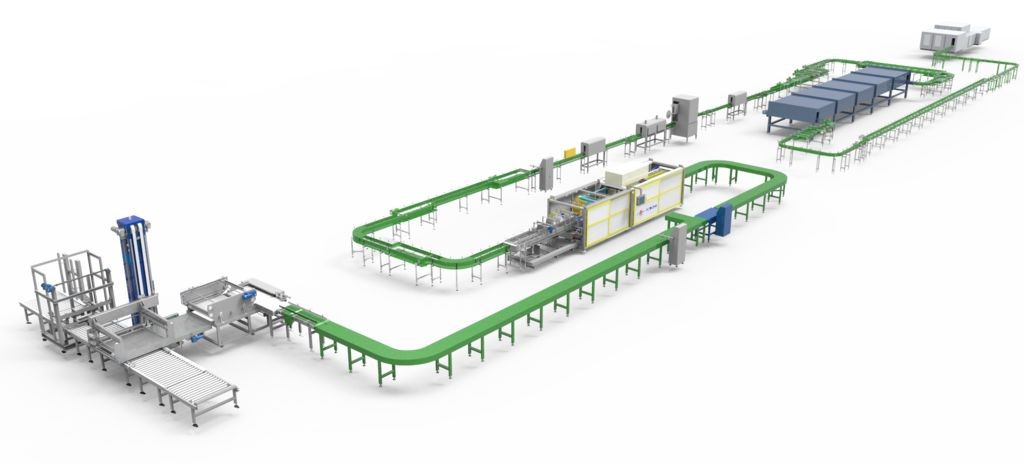 10000 BPH 1000ml PET bottle line for sorghum and maize meal beer
The solution is designed based on drawing KM20200529PD
No

Name

Model

Capacity

Qty.

Remark

1

Carbonator

INP-QHS-12000

12T/H

1 set

※Siemens PLC+HMI

※Mixing ratio: 1:2 – 1:3

※With Deareation function

2

Rinsing filling capping machine

INP-DCGF

60-60-15

10000BPH

on 1L bottle

1 set

※Siemens PLC+HMI (on the control cabinet)

※Siemens VFD speed regulation

※Autonics Sensors

※SKF bearing

※German IGUS sliding sleeve

※Sealing rings are made in Europe

※Schneider electric components

※SUS304, 3mm supplied by POSCO, S.Korea

※60 rinsing machine

※60 filling machine, two stage-vacuuming

※15 capping heads

1.2

Cap elevator

INP-SG

10000CPH

1set

※Belt type

※With cap sorting ability

1.3

Cap sterilizer

INP-XDJ

1set

※Three stage sterilizing rinsing blowing

※Disinfectant rinsing recycling system

※including pumps and pipe works

2

Light Inspection Unit

INP-DJ

10000BPH

1set

※Energy saving lamp

※Strong penetration light ray

3

Bottle dryer

INP-CGJ

10000BPH

1set

※ With two 7.5 kW blowing fan, Dust proof

※Airkknife type

4

Code sprayer

VJ1210

10000BPH

1set

※Supplied by Videojet, USA

※You can buy the ink in your country

5

Shrink sleeve labeling machine

INP-TB150

10000BPH

1set

※Siemens PLC + HMI

※Panasonic inverter

※Panasonic sensor

※Panasonic Servo motors

※Schneider low voltage electric components

※Including steam generator

6

Automatic PE film shrink wrapping machine

INP-MB200A

22 packs/min

1set

※Siemens PLC + HMI

※Panasonic inverter

※Omron sensor

※Airtac pneumatic components

※Schneider low voltage electric components

7

Flat conveyor

SC-1

11000BPH

95.5m

※SUS304, 3mm, supplied by POSCO, S.Korea

※Speed adjusting motor

※SUS304 Cable sink

※Water collecting tray

※Lubricating system

※Subject to the final confirmation of the line's layout

90 degree turn

4sets

Motor

9sets

8

Low pressure air compressor

DY

2.0m3/min

1set

※10 Bar

※Supply the compressed air to the fillig and packing line
Delivery time: approximately 4 months after receive down payment & confirmation of the can drawing.
Guarantee time: 24 months after machines running in buyer's factory.
Payment terms: 30% as down payment, T/T, 70% before shipping, T/T OR L/C. (Can be subject to final discussion)
Training: INPAKT will provide on-site technology training and advance operator training.
Installation: INPAKT will arrange engineers to the buyer's site for installation and training, Engineers' round-trip tickets, visa fees, salary ZAR 3000/day to paid by the Buyer. See Part 6, Price table.
Note: The above amounts refer to the information in our possession at time of offer, INPAKT reserves the right to verify and amend these amounts after receipt of the material to be handled (such as cans, lids, labels, shrink-packs, shrink wrapper film roll and pad, handling machine adhesive roll, flat pads, pallet, stretch-wrapper film roll, etc.).
Beverage mixing system                                                                 
Beverage mixing machine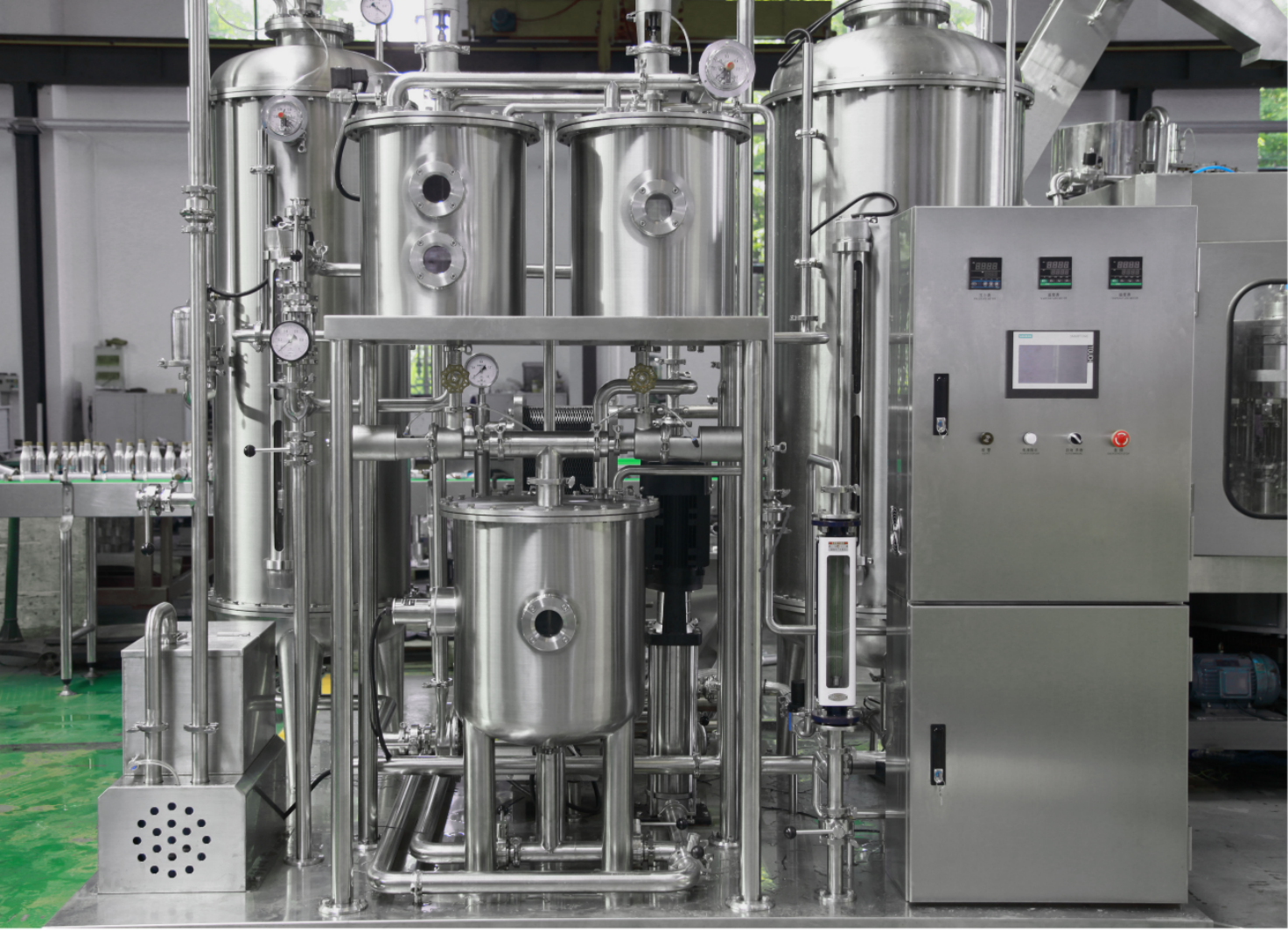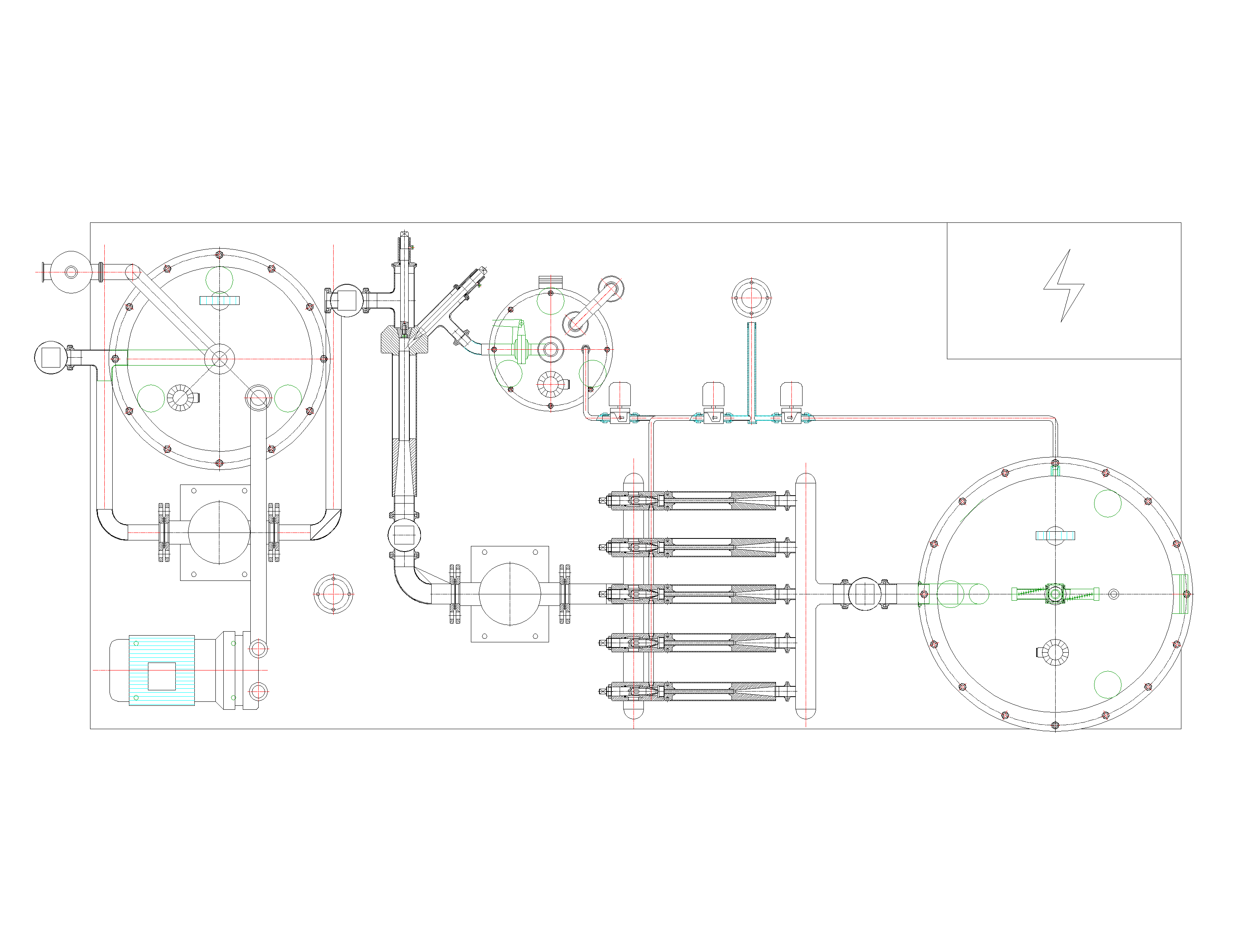 Description:
INP-QHS Soda mixer is an automatic equipment specially designed for the production of various carbonated beverages such as lemon, cola and juice. Compared with domestically produced products of the same type, it has the characteristics of complete functions, accurate mixing, convenient and easy to adjust, and meets sanitary requirements. The structure is novel and reasonable, the structure adopts closed system, and can meet the requirements of cleaning and disinfection. Produces carbonated beverages and can easily adjust production capacity and water to the perfect syrup ratio. In addition, the combination of electrical control and other devices has the characteristics of high degree of automation, coordinated operation, continuous production, good mixing effect and large production capacity.
Working principle:
The INP-QHS automatic injecting gas-water mixer mainly consists of a vacuum section, a batching section and a gas-liquid mixing section.
The vacuum section consists of a closed circuit of the feed water inlet port by means of a solenoid valve, an air chamber, a vacuum pump and a vacuum tank equipped with a sprayer and a level controller.
The adjustment section consists of a ration pump, a slurry inlet line with a solenoid valve, and a syrup tank with a level controller. It consists of a syrup throttle valve and a venturi device. There are two adjustment handles with indicators on the venturi device. The size of the opening of the deaerated water and the sugar liquid outlet is shown, respectively. A certain amount of opening also reflects a certain ratio. For the amount of sugar required for a particular beverage, you can change the size of the opening by turning the sugar adjustment handle.
Gas-liquid mixing section
The gas-liquid mixing section consists of a mixing pump, a CO2 inlet line with a pressure regulating device, a gas-liquid mixed venturi device, a soda storage tank with a level controller, and a soda water output line with a safety valve.
Technical parameters:
| | |
| --- | --- |
| Model: | INP-QHS-12000 |
| Capacity: | 12000 L/H |
| Mixing ratio(water:sugar): | 1:2 – 1:3 |
| Mixing precision: | ≤2% |
| Content of the CO2: | ≥2.0 times |
| CO2 supplying pressure: | 1-1.3 MPa |
| Heat exchanging area: | 20 m² |
| CO2 consumption: | 3 m³/h |
| CO2 purity: | ≥99.9% |
| Compressed air consumption: | 1.0 m³/ min |
| Compressed air supply pressure: | 0.6-1 MPa |
| Refrigerant: | Ethylene glycol solution |
| Refrigerant temperature: | -2 ℃ |
| Mixing temperature: | 25 ℃ |
| Pressure at purified water inlet: | 0.3-0.4 MPa |
| Pressure at syrup inlet: | 0.3-0.4 MPa |
| Temperature at syrup inlet: | ≤25 ℃ |
| Temperature at beverage outlet: | 1-2 ℃ |
| Pressure at beverage outlet: | ≤0.65 Mpa |
| Power: | 20.45 kW |
| Dimension: | 4000*2300*2600 mm |
| Weight: | 3650 Kg |
Filling & Post-Packaging Machine                                                          
Rinsing-Filling-Sealing Tri-block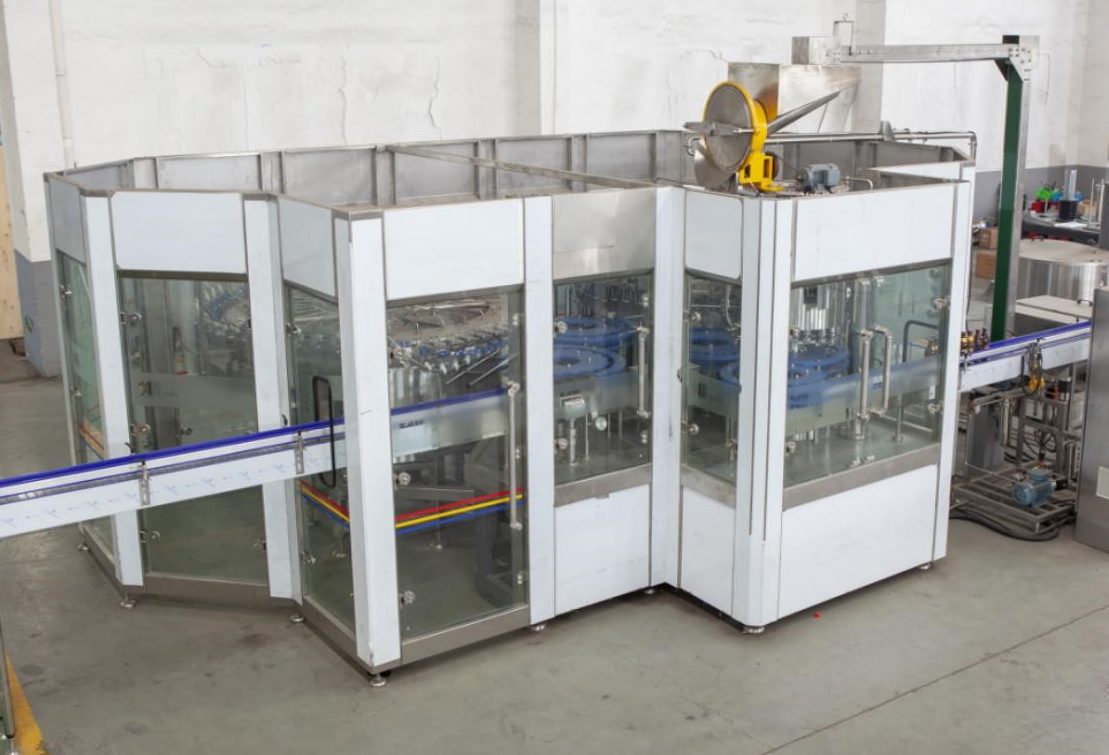 Description:
The XGF60-60-15 flushing, filling and capping machine is designed for the filling and capping of CO2-containing beverages, such as beer, sparkling wine, champagne, soda, cola and mineral water.
The form of the filling valve of this machine adopts a short tube, which can carry out two-stage vacuuming, no bottle and no vacuuming, the bottle will be seamlessly connect to isobaric filling valves by the double guide rods. The filling speed of the valve is 160 ml per second, and the material loss is less than 0.8%. Before the beverage is bottled, the empty bottle is firstly pre-vacuumed, then would be filled with back-pressure CO2 gas, then a second-time vacuuming, and then would be filled with CO2 back pressure, and then the beverage is filled. For example, the vacuum degree of each vacuum is 90%, and the air content in the bottle is only 1% after the second vacuuming, which greatly reduces the contact between the beverage and the air during filling, which undoubtedly has a higher quality and a longer storage period. To prevent the loss of flavor, such as the filling of high-grade beer is particularly suitable. Of course, the machine can also be used to fill beverages of average quality without using vacuum treatment, without using CO2 as back pressure, and only with sterile air as back pressure. The function of this machine is the same as the German VF, VVF, SVF models, that is, the filling method without vacuum, pre-vacuum or secondary vacuum. No matter which way you choose, the machine can be adapted, and the change is extremely simple. It can be achieved by only increasing or decreasing the control unit of the filling valve. Before leaving the factory, the control unit is configured according to the filling method of secondary vacuum, and the user can adjust it according to the requirements of the produced beverage.
The machine adopts the latest achievements of contemporary science and technology in the electronic control system, the control action makes the whole filling and capping process from pressure backing, broken bottle removing, defoaming, bottle cap stirring, blowing feeding cap and other actions. In addition, it also has many functions such as automatic fault detection, shutdown, fault location display, light signal inspection, automatic, manual, pneumatic, cleaning function selection and so on.
In addition, the stability of the liquid level of the material cylinder has a great influence on the filling. The machine adopts the continuous detection of the float level in the height control of the liquid level of the material cylinder, which converts the fluctuation of the liquid level into an electric signal to control the liquid feeding pump. The opening of the membrane valve changes the traditional control method of using high and low liquid level floats, improves the liquid level control accuracy, keeps the filling liquid level always stable, reduces the error of the bottled beverage filling capacity, and improves the filling Pass rate.
Features:
Welded by SUS304. Product contact is SUS304 food grade;(SUS316 for option)
High-efficiency rinsing-nozzles can spray water to any part inside the bottle;
Corrosion-resistant bearings from NSK or SKF;
Mechanical valve filling, flow meter filling, weighing filling or laser positioning filling for choice;
Open design for gear transmission;
Equipped with VFD control, more energy-saving;
PLC control system is equipped;
All electric components are supplied by the world-famous companies;
Technical parameters:
| | |
| --- | --- |
| Model: | INP-DCGF-60-60-15 |
| Capacity: | 10000 B/H (1000ml) |
| Bottle height: | 120-310 mm |
| Bottle diameter: | 50-96 mm |
| Bottle mouth diameter: | 26-40 mm |
| Bottle type: | PET bottle |
| Cap type: | Flat cap |
| Material of the water dispenser: | Poly tetra fluoroethylene |
| Rinsing heads: | 60 |
| Rinsing time: | over 2 seconds |
| Filling heads: | 60 |
| Filling temperature: | normal temperature |
| Filling pressure: | 0.2-0.4 Mpa |
| Flow velocity of the valve: | 120-150 ml/s |
| Filling valve: | SUS304 |
| Product reservoir tank: | SUS304 |
| Capping heads: | 15 |
| Capping torque: | 0.6-2.8 Nm (adjustable) |
| Main motor power: | 11 kW AC 380V 50Hz IP55 |
| Installation power: | 20 kW |
| Power supply: | 380V, 50HZ |
| Consumption of compressed air: | 0.8 m³/min (0.6MPa/H) |
| Consumption of aseptic water: | 0.4 m³/min (0.2-0.25Mpa) |
| Dimension: | 6550*4650*3400 mm |
| Weight: | 14000 Kg |
Component list:
Items

Supplier, Origin

PLC

Siemens, Germany

Touch screen

Contactor

Schneider, France

Thermal relay

Switches

Photoelectric electric sensor

Omron, Japan

Pneumatic components

SMC, Japan

Bearing

SKF, Sweden
Detailed description
A: Rinsing part: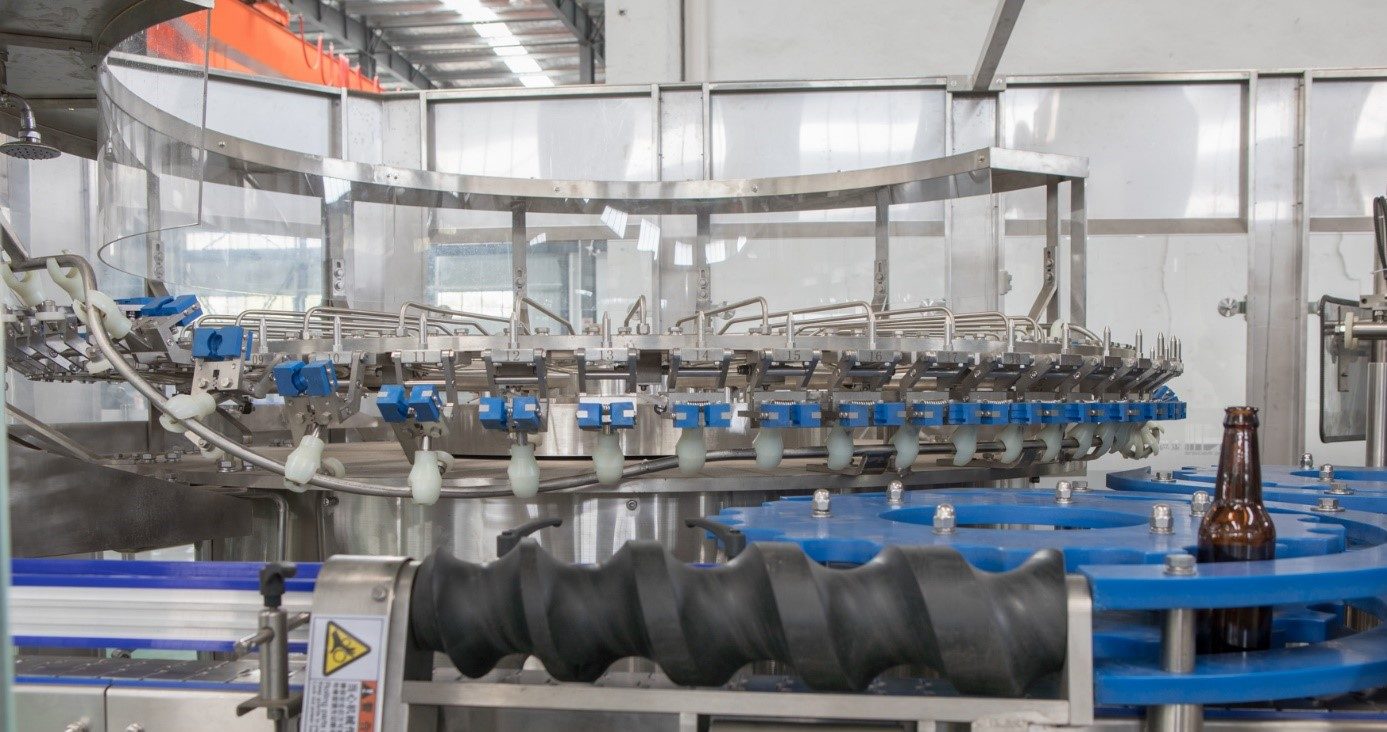 Features:
Rotating type, used for rinsing containers of alcohol, beverage, pure and mineral water.
Neck-holding catchers turn bottles upside down, and rinse them by aseptic water.
Main structure, contact parts of the aseptic water and the cover are made of stainless steel.
Bottle sensor is installed to prevent wrong-position bottles from being feeding in.
Pressure gauge and valve stabilizer are installed on the water inlet pipe.
Able to adjust the height to match the different-height bottles(have maximum and minimum height protection).
Has aseptic water recycling system. For choice
It automatically stops rinsing when bottle-absence detected, and restarts when bottle-presence detected.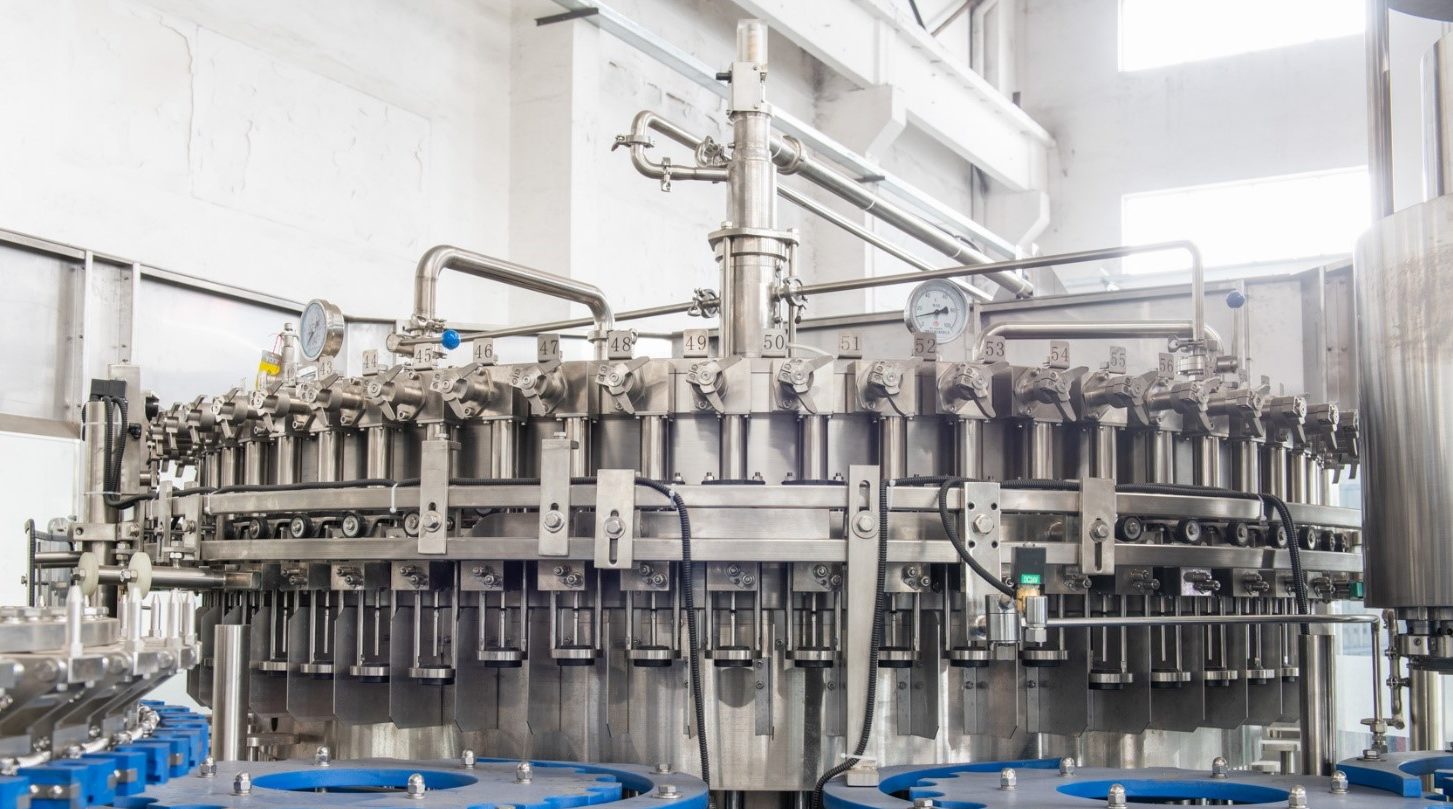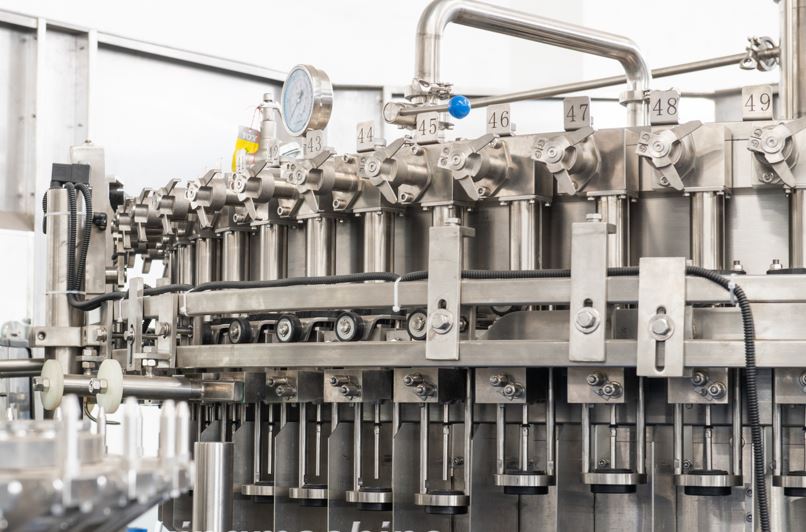 Features:
Design and manufacture on the basis of German technology.
Cylinder lifting structure to ensure bottle mouth and the filling valve connect seamlessly, avoiding product loss.
The filler is able to adjust the height to match the different-height bottles.(have maximum and minimum height protection)
Open style gear transmission, high efficient, low noise, long life-service, easy maintenance.
The motor is adjusted by the inverter, stepless frequency conversion speed regulation.
Bottle transporting system has simple structure, short changeover time to fit different bottles. Bottom-holding method for transporting.
PLC system controlled, errors can be displayed on the screen, such as: bottle jammed, cap absence.
No bottle, no fill.
·The liquid level inside the filling tank is monitored by the sensor, ensuring stable filling.
·The key electric parts are made by the world-famous companies.
Features:
Caps will be unscrambled in the silo, the amount is monitored.
A flip-over adjuster installed on the slide to avoid up-side-down caps.
Two photoelectric sensors installed on the slide to alarm the cap-absence.
The capper is able to adjust the height to match the different-height bottles.(have maximum and minimum height protection)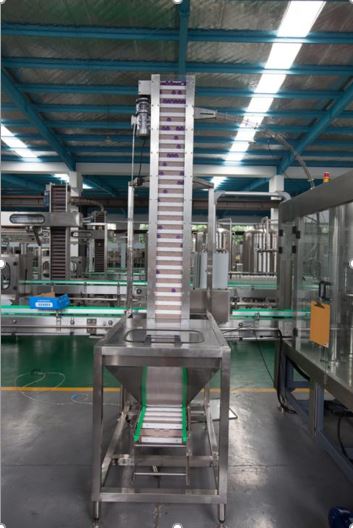 Features:
Waterfall type cap sorting method.
No damage on the cap.
Transparent PC board for cap sorting.
Equipment with AC motor and speed reducer.
Indicator light for cap absence.
Upside-down caps will be picked out and sent back to the hopper.
| | |
| --- | --- |
| Model: | INP-SGJ |
| Cap type: | Flat cap |
| Material: | SUS 304 |
| Conveying capacity: | 10000 caps/h |
| Power: | 0.37 kW |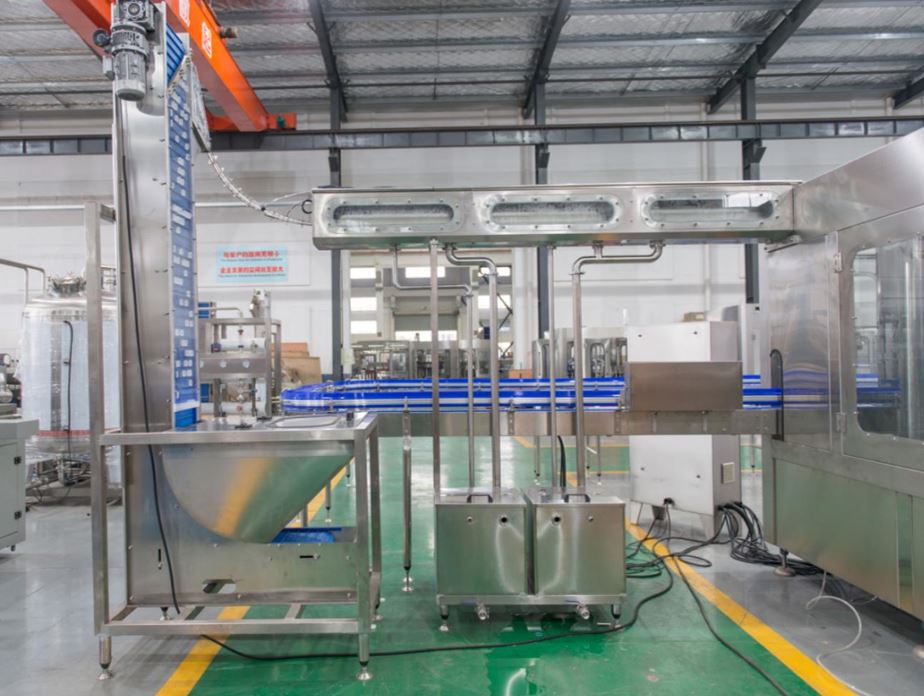 Description:
High efficient centrifugal cap-unscrambling method, low wear.
Cap detecting system provide signals to control the cap lifter.
Special design on the cap unscrambler's guild rail to prevent the up-side-down caps passing through.
Caps would be sprayed by disinfecting solution, rinsed by aseptic water and dried by aseptic compressed air.
Disinfecting solution tank has maximum and minimum liquid level, allowing replenishment.
| | |
| --- | --- |
| Model: | INP-XDJ |
| Disinfectant solution sterilizing time: | 15s |
| Aseptic water spraying time: | 5s |
| Aseptic compressed air drying time: | 3s |
| Consumption of the aseptic water: | 1 Ton/H (0.2 MPa) |
| Consumption of compressed aseptic air: | 1000 L/Min (0.6-0.7 MPa) |
| Consumption of the normal air: | 800 L/Min (0.6-0.7 MPa) |
| Power: | 1 kW |
| Weight: | 900 Kg |
| Length: | 3500 mm |
| Manufacturer: | INPAKT |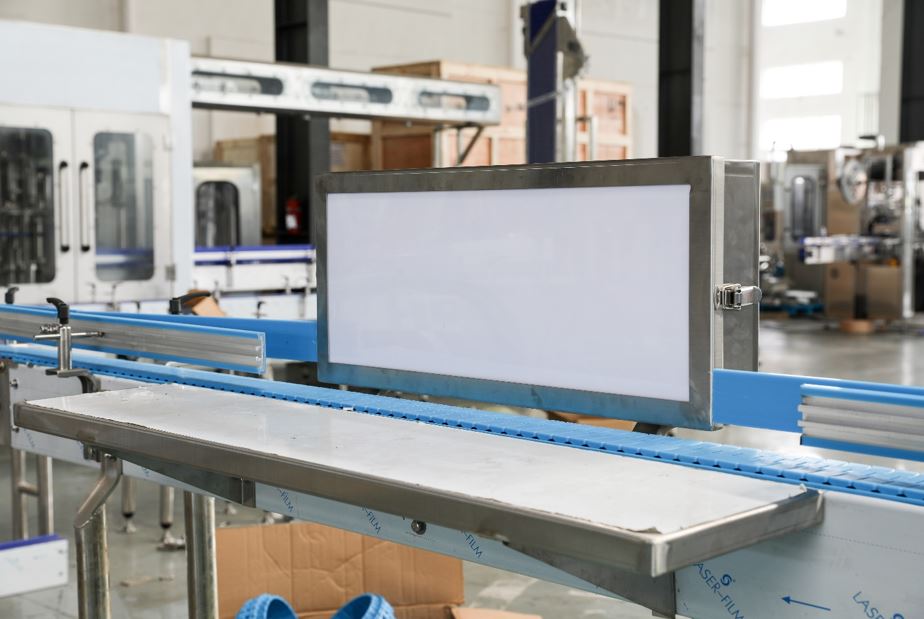 Description:
Indispensable equipment for beverage production line, eliminating defective products.
Technical parameters:
| | |
| --- | --- |
| Model: | INP-DJ |
| Lighting tube quantity | 3 |
| Power consumption: | 3*20 W |
| Material for framework: | Stainless steel 304 |
| Manufacturer: | INPAKT |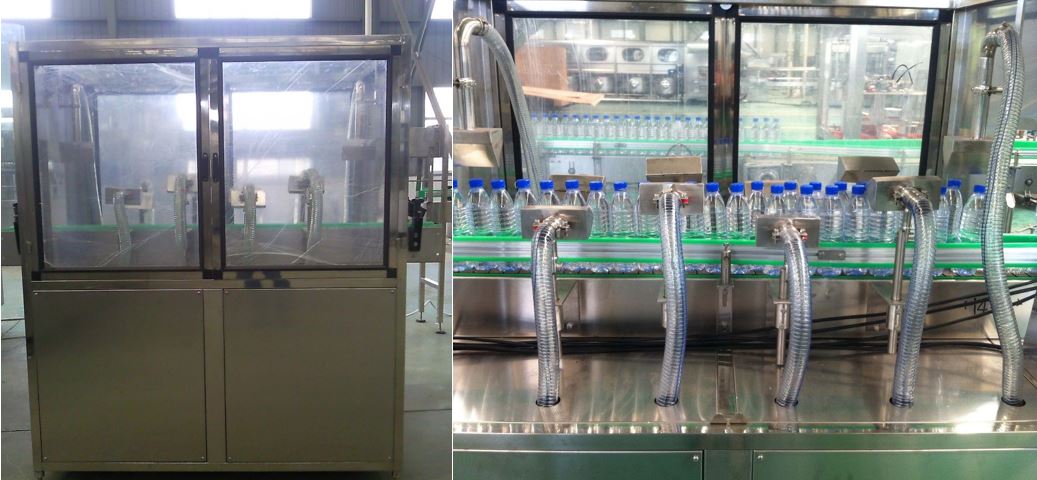 Features:
The blower adopts a fan as the air source.
An air knife type structure, and the size of the sealing can be adjusted.
The top side and the two vertical sides of bottles can be blown to dry thoroughly.
Easy for labeling, printing, packing operations.
Technical parameters:
| | |
| --- | --- |
| Model: | INP-CGJ |
| Capacity: | 6000 B/H |
| Length: | 800 mm |
| Dimension of the blower: | 40*40 mm |
| Power: | 7.5 kW * 2 |
| Material: | Stainless steel 304 |
| Dimension: | 1200*350*1400 mm |
4. Automatic Sleeve labeling machine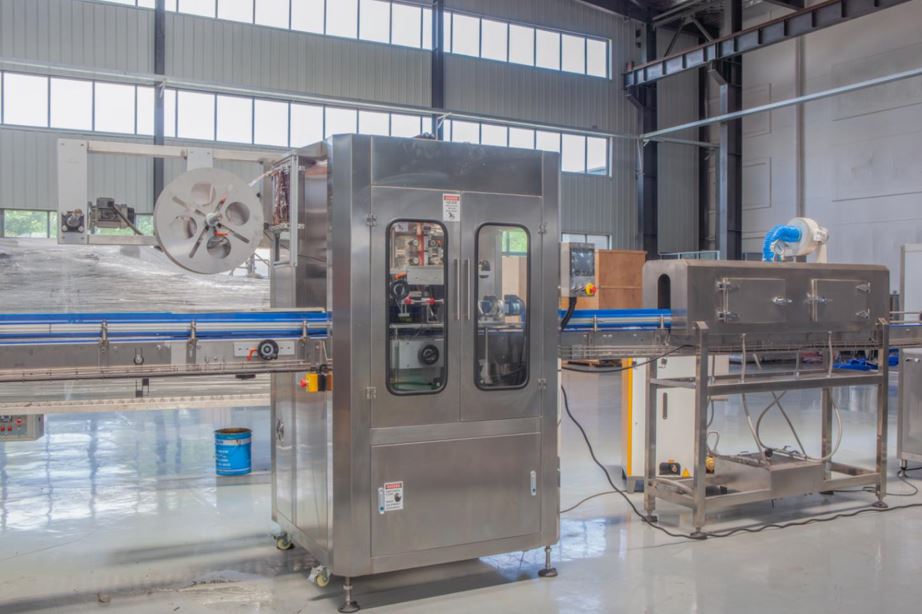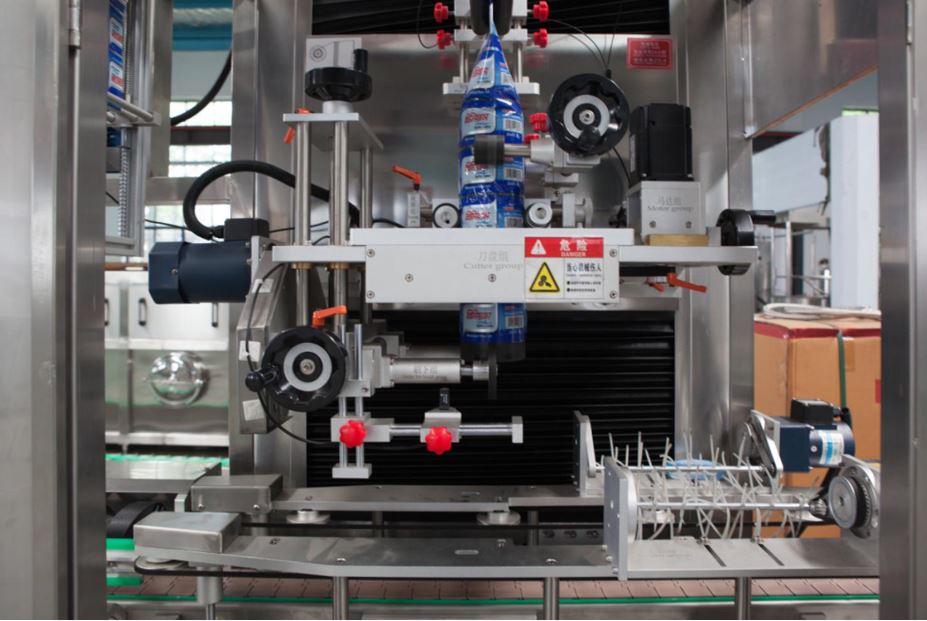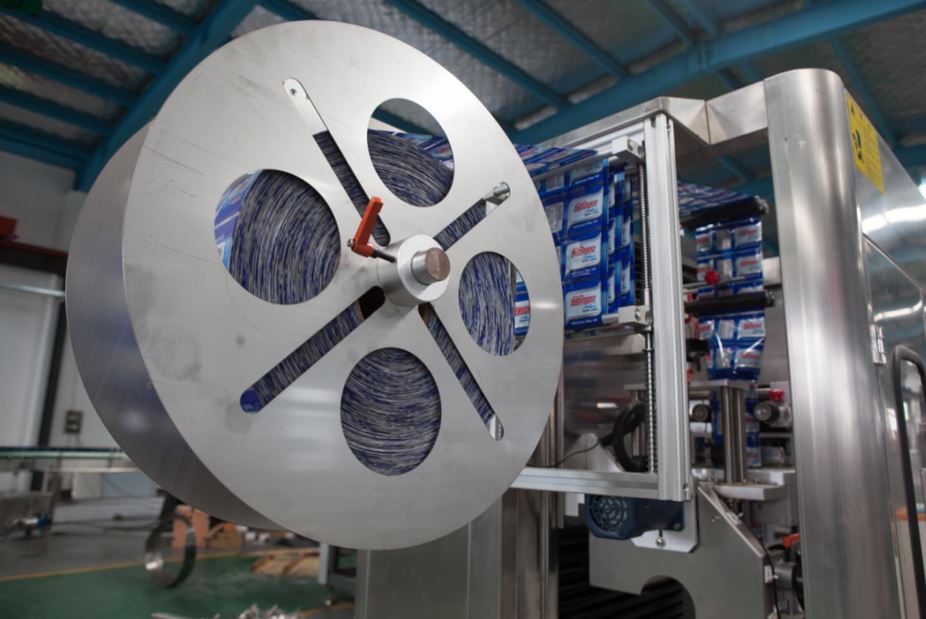 Description:
The machine is made of stainless steel and high quality of aluminum alloy.
The feet bolt is not needed, easy to move, suitable for different place.
The shrinkable film roll with adjustable locking gear, can be adjusted according to different roll 5'-10'.
The applicable bottles can be square bottle and round bottle
Without tools, the driven machinery can be adjusted to meet different bottle size
Particular inserting label ways, i.e. inserting label, it is reasonable and convenient.
Full automatic feeder, the flat shrinking and tension are adjusted together.
It is assured to lower error because there is inspection of rolling label cut.
Particular blade design, blade base can be change by free, changing blade quickly and conveniently.
It is easy to change the central clamping device without any tools.
Oriental rolling label device can be lifting synchronously.
The separating bottle screw, oriental belt and conveyor are adjusted synchronously..
Adopting Japanese YASKAWA servo motor and photoelectric sensor, ensuring the precision of label cutting.
Stainless steel electric controller, adopting Mitsubishi PLC made in Japan.
Adopting advanced HMI, main component adopts world-famous brand.
Technical parameters:
| | |
| --- | --- |
| Model: | INP-TB250A |
| Label size: | Diameter 30-125 mm |
| Bottle diameter: | 28-125 mm |
| Sleeve label length: | 30-250 mm |
| Thickness: | 0.035mm |
| Label material: | PVC/PET |
| Dimension: | 2440*890*2200 mm |
| Weight: | 750 Kg |
Component list:
Items

Supplier, Origin

PLC

Siemens, Germany

HMI

VFD

Panasonic, Japan

Contactor

Schneider, France

Thermal relay

Switches

Photoelectric sensor

Omron, Japan
5. Code sprayer (
not included in the quoted price, local suppliers to be used

)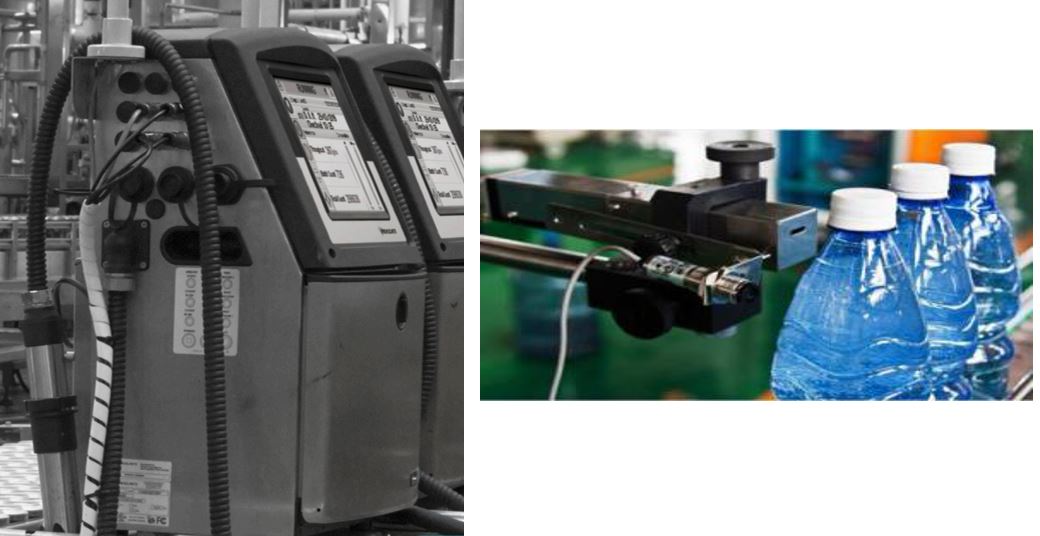 Features:
Speed without compromising quality:
Ideal solution for a range of slow to moderate speed applications:
Single line maximum speed of 162 m/min (533 ft/min)
Two line maximum speed of 59 m/min (194 ft/min)
Three line maximum speed of 29 m/min (96 ft/min)
Store up to 100 complex messages for easy recall. Store even more messages using a standard USB memory stick
Small and portable, the 1220 is easily moved from line to line with minimal connections
Engineered to keep your line running:
Videojet's advanced core technology includes all ink system filters and common wear parts
Intervals of up to 9,000 hours between preventative maintenance
Auto cleaning printhead for fast start-ups, even after extended shutdowns
Optional internal air pump eliminates need for external air, minimizing potential for contaminants to enter the ink stream
No mess, no waste fluid delivery: 
Advanced fluid management reduces makeup consumption to as low as 2.4 ml/hr
Smart CartridgeTM fluid delivery system to virtually eliminate spills and help ensure the correct fluids are being used
Simple Usability via Videojet standard CIJ interface:
Bright display with WYSIWYG and function keys for easy operation
User levels to separate operation from installation and maintenance
Prompted user fields to help reduce errors.
Model:

VJ-1210

Line speed capability:

Can print 1 to 3 lines of print at speeds of up to 533 ft./min. (162.5 m/min.) (10 characters per inch, single line of print)

Font Matrix Configuration:

5×5, 5×7, 7×9, 11×16, 17×24

Twin-line:

5×5, 5×7, 7×9

Tri-line:

5×5, 5×7

Nominal Character Height:

Selectable from 0.079'' (2 mm) to 0.279'' (8.5 mm), depending on font 230 Kg

Throw Distance:

Optimal: 0.472'' (12 mm)

Range: 0.197'' (5 mm) to 0.591" (15 mm)

Keyboard:

Membrane style with tactile feedback, including 72 numeric, alphabetic, and special function keys. PC-style layout to approximate international PC convention.

Display:

320×240 Bright blue backlit 5.7'' LCD display. WYSIWYG onscreen message editing

Custom Logo/Graphics:

Can be created by individual user on printer or PC with optional Videojet

Manufacturer:

VideoJet, USA
6. Automatic PE film shrink wrapping machine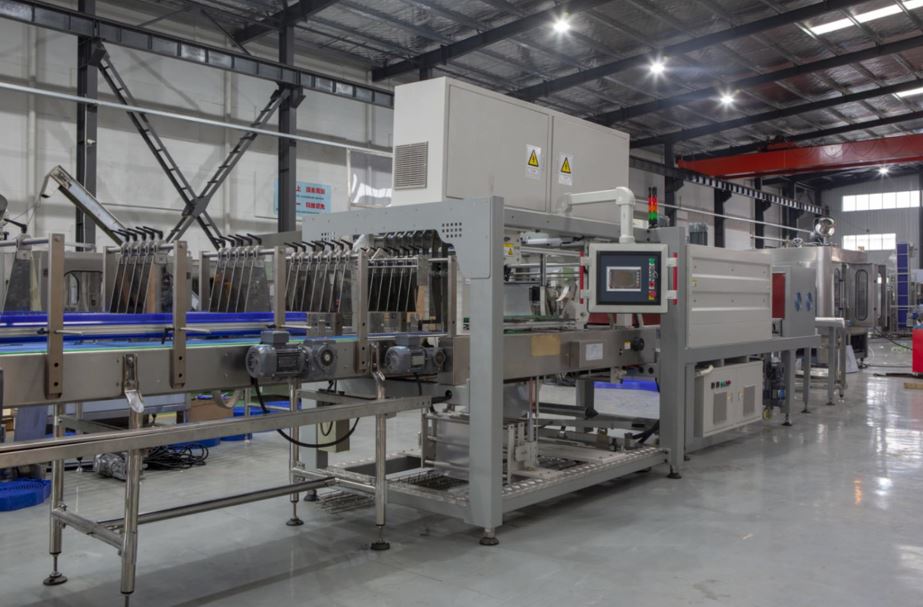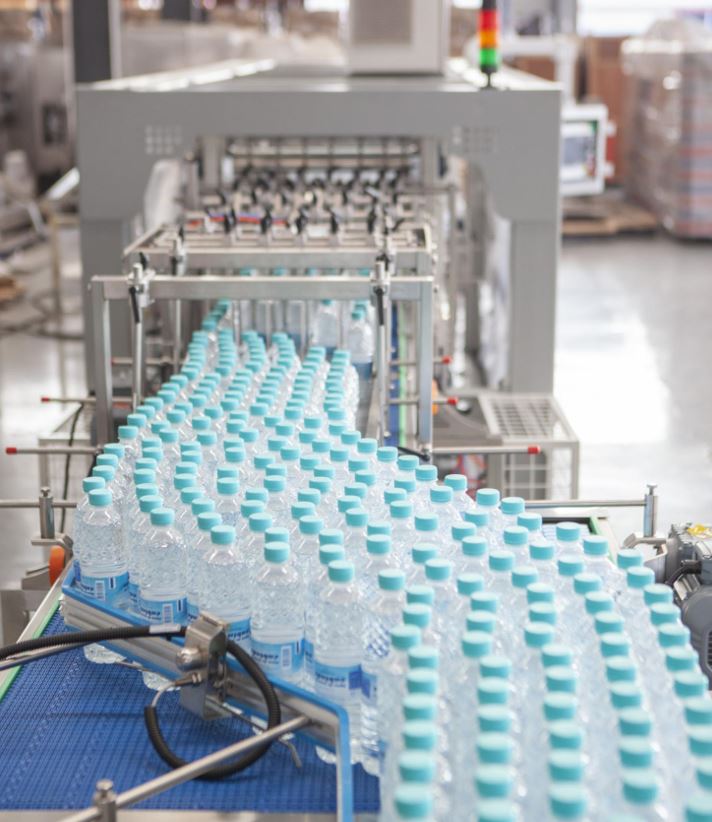 Description:
PE film packing machine is suitable for wrapping products as pop-top, mineral water, bottles, beer, drinks etc without bottom-tray, working with PE shrink tunnel to pack the goods perfectly, the whole producing process adopts the Germany advanced technology, And the main parts are imported from international famous company, stable capability and long service-life.
Product description:
Frequency control, ssecondary bottle transport device.
The whole set which are push bottle, heat sealing cutting adopt pneumatic structure.
Inductive switch control film length.
Touch screen, PLC control system advanced reliability of the equipment function.
Circular wind machine, reassure well-proportioned temperature of the shrink furnace.
Strong cooling system can reassure finalize the design quickly.
Heat-fast Teflon transport net, transport steady, high strength and stand wear and tear.
Frequency conversion timing net transportation structure.
The height of the conveyor belt can be made according to the user, adjustable range±50mm
Bottle transport machine can satisfy the direction of the user, it can prolong and shorten
Pterygoid stainless iron heating system, durability.
Satisfy the bear storage rack device of the short duration for the product, assure consecutive work for the production line.
Technical parameters:
| | |
| --- | --- |
| Model: | INP-MB2 |
| Material of shrink film: | PE, PVC |
| Thickness of the film: | 0.03-0.15 mm |
| Max packing size: | 600*400*350 mm |
| Temperature of the heating tunnel: | 160-260 °C |
| Thickness: | 0.035mm |
| Capacity: | 10-12 package / min |
| Power | 20 kW |
| Actual consumption: | 15 kW |
| Dimension: | 5050*3300*2100 mm |
| Weight: | 1.2 ton |
 Component list:
Items

Supplier, Origin

PLC

Siemens, Germany

HMI

VFD

Siemens, Germany

Contactor

Siemens, Germany

Thermal relay

Switches

Photoelectric sensor

Panasonic, Japan
7. Air conveyor
Description:
The air conveyor is installed on the supporting legs which are against the ground, and the fan is installed on the air conveying duct. The air inlet of each fan is equipped with an air filter to prevent dust from being blown into the container. The bottles are hung on the air conveyor by neck and transported to the rotary filler by air.
The automatic drop-off device is installed on the air conveyor, and the mechanism is driven by the cylinder. When the downstream machine has a temporary shutdown or deceleration operation, as the empty bottles on the air conveyor reach a certain amount, shut down the bottle-dropper to collect bottles from blowing machine manually, and put bottles back to the air conveyors afterward, this ensures that the blow molding machine does not have to turn off in this case.
There are multiple sets of photoelectric switches on the air conveyor. The photoelectric switch near the air crossroads is used to control the direction of the air blowing. The other photoelectric switches are used to control the automatic drop-off device, ensuring the smooth running of the entire air conveyor.
Main body is made of Stainless Steel 304.
The fan blowers have in-built air filters, avoiding secondary pollution.
The air inlet of the fan outside the sterile room is equipped with a primary air filter to prevent dust from getting into the room.
Technical parameters:
| | |
| --- | --- |
| Fan power: | 2.2 kW / 5m |
| Cross-section size of the air channel: | 180*180 mm |
| Height | 1300 mm |
| Thickness of the steel plate: | 2 mm(SUS304) |
| Capacity of blowing: | ≥3400 m³/h |
| Filter type: | Plate type |
| Filter material: | Galvanized steel plate for out frame, stainless steel for filter screen |
| Filter size: | 610*610*102 mm |
| Bottle size: | 200-3000 ml |
| Bottle diameter: | 50-120 mm |
| Climbing angle of air conveyor: | ≤15° |
| | ≤55 Pa, (final resistance is 4-5 times stronger than initial resistance) |
8. Belt conveyor & Buffering system
Description:
The operation efficiency of the production line is mostly up to the configuration of the conveyor line. The configuration must take into account the short-term shutdown of the rear-end equipment (for example, replacement of labels, etc.), ensuring the shutdown doesn't affect the operation of the front-end equipment, and should be able to connect the front equipment and rear equipment well to make the whole the production line achieve high operation efficiency. Our production line's layout fully considers the relationship between customer investment and production line efficiency. Based on the world's advanced technology, the above requirements can be well achieved. The mechanical structure is a new design, most of the components are formed by stamping or bending, which has the advantages of good rigidity, light weight and good interchangeability. The transmission method features reliable operation and convenient maintenance, which is suitable for conveying bottles with diameters of Ø40-Ø110mm. The electric control system adopts PLC (On the Rinsing-filling-capping tri-block) to control the operation of the whole container conveying buffer system, and automatically conduct the functions of running speed acceleration and deceleration and automatic buffering.
Features:
The bottle belt is synchronously tracked with the host or the upstream and downstream equipment, which are connected to control system.
The bottle does not fall, does not jam, and does not block during the conveying process.
According to the user's needs, the buffer platform can be set in front of the labeling machine (the buffering time is usually about 1-2 minutes).
When replenish PE label, the filling process proceeds, the filled bottles are stored on the buffer platform. After finishing replenishing PE label, the labeler starts labeling, the line gets back to synchronizing production.
After replenishing, the labeling machine produces at a higher speed to fill the platform with labeled bottles again, and then resumes the synchronous production speed.
The conveyor belt structure is modular design, the parts are interchangeable, compact, low noise, easy to install and maintain, and can be combined according to different capabilities and bottle types, which has great flexibility.
Electric control design is advanced and reasonable, and the control method can be designed according to the customer's requirements, and the required electrical control components can be selected to further improve the smoothness of transportation.
The control switch position is reasonably set according to the layout of the conveying system or the customer's demand, which is convenient for the user to operate.
Technical parameters:
| | |
| --- | --- |
| Motor power: | 0.37 kW / 6m |
| Width of the conveyor: | 110 mm |
| Height: | 1050 mm |
| Thickness of the steel plate: | 2 mm(SUS304) |
| Bottle volume: | 200-3000 ml |
| Bottle Diameter: | 50-100 mm |
 Technical parameters of the lubricating system:
Item

Name

Manufacturer

Specification

Qty.

Remarks

Metering dilution

Integrated pump cabinet

 

SUS 304 customized

1 set

 

floor stand

 

304 stainless steel customized

1 set

 

Metering pumps

Dostron

D25RE2

1 set

France

Filter

Made in China

3/4″

1 set

Stainless steel polishing

Metering dilution

Pressure regulating valve,

Ball valves,

water pressure gauge, etc.

Made in China

3/4″

According to reality

 

Pipeline,

spray bar

stainless steel pipe

Made in China

Ø10(sleeve connection)

140 m

Exterior polishing

Spray bar (including single spray)

Customized

17 set

Exterior polishing

Fan nozzle

TEFEN

Israel65-C05

65 set

Including 5 sets of spare parts

Control part

PLC

Siemens

S7-200

1 set

Partially prepared in integrated pump cabinet

7 inch color touchscreen

WEINVIEW

TK6070iq

1 set

Switching power

MEAN WELL

DC24V

1 set

Intermediate relay

Omron

DC24V

2 sets

Magnetic valve

Burkert

DC24V

2 sets

Electrical accessories

1 set